Fostering Research & Innovation for Excellence
Razak Faculty of Technology and Informatics, Universiti Teknologi Malaysia (UTM), Malaysia will be organizing the Research Week 2019 on 15th – 18th October 2019 at the UTM Kuala Lumpur, Malaysia.
UTMRAZAK Research Week 2019
All staff and students of Razak Faculty of Technology and Informatics are cordially invited
Venue
Business and Advanced Technology Centre (BATC)
Menara Razak
UNIVERSITI TEKNOLOGI MALAYSIA
Jalan Sultan Yahya Petra
54100 KUALA LUMPUR, MALAYSIA
The primary objective of Razak Faculty Research Week is to provide a platform to integrate research and education in the vital field of engineering and technology, management, science and design, informatics and policy studies.  Razak Faculty Research Week aims to create an interdisciplinary platform to showcase our academic talents and aspiring postgraduate's student's research discovery and innovation.  This annual event comprises a series of programmes from research talks from renowned speakers, research workshops, postgraduate's student seminar and poster competition.  Razak Faculty Research Week shall be an excellent podium geared towards ensuring passion, dedication and commitment for research activities in supporting the UTM theme "Innovative, Entrepreneurial and Global".
Our Research Week 2019 Programs
Click on each program for more details
SPECIAL EVENT FOR OUR STUDENT
GRADUATE TALENTS SCOUTING
16 OCTOBER 2019 (WEDNESDAY) | 9AM-4PM
Visit booths by the various research project, organisation and company that offering a placement for graduate talents especially for UTM FTIR current and graduated students.
OPENING CEREMONY & RESEARCH TALKS
15 OCTOBER 2019 (TUESDAY) | 9.30am-1.00pm | SEMINAR HALL BATC UTMKL
All staff and students of Razak Faculty of Technology and Informatics are cordially invited to Research Week Launching ceremony and Research Talks sessions with aims:
To highlight the current research developments towards IR 4.0.
To share international publication strategy in prestige institution.
To provide exposure to collaborative opportunities and industrial networks.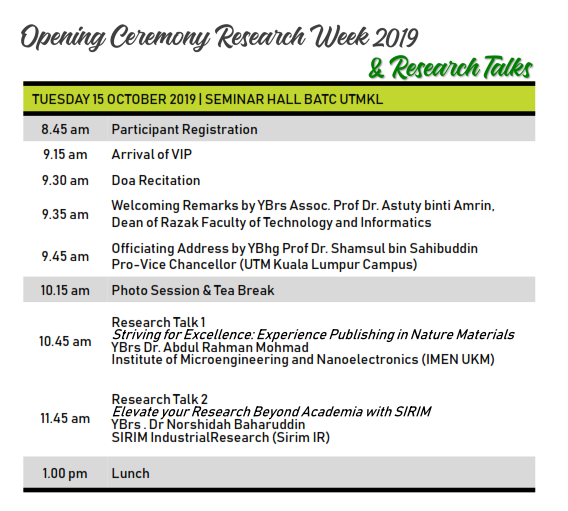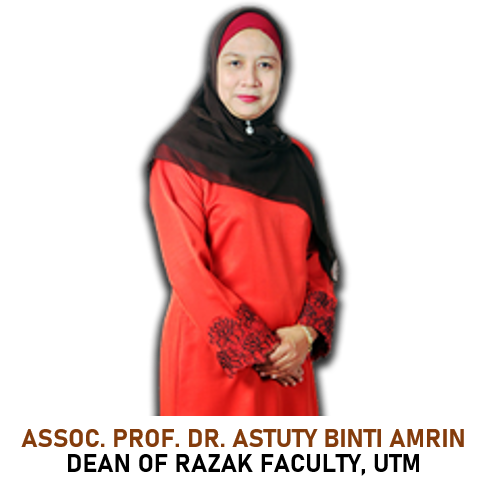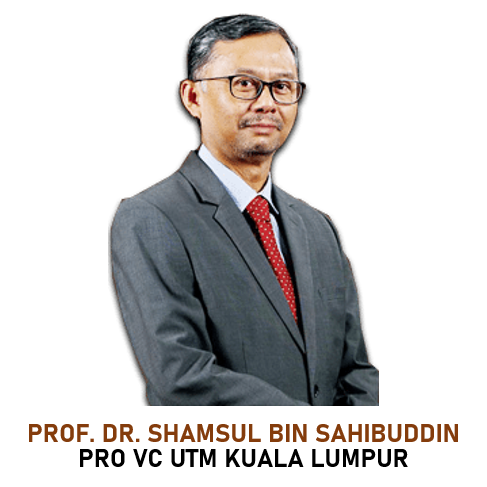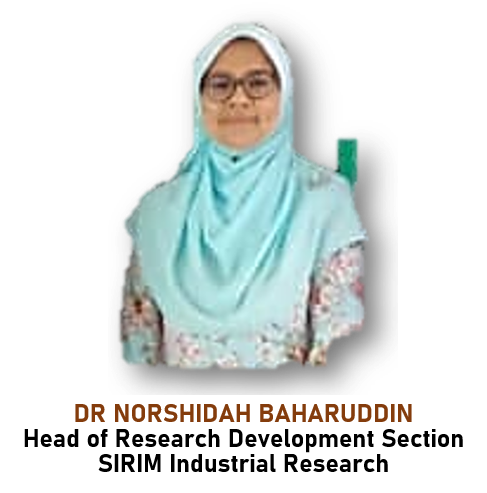 RESEARCH POSTER COMPETITION
15 -18 OCTOBER 2019 (TUESDAY-FRIDAY) | SEMINAR HALL BATC UTMKL
UTMRAZAK Research Poster competition aims to provide opportunities for researchers to share their current research activities and innovations and prepare for the coming national and international innovation competitions.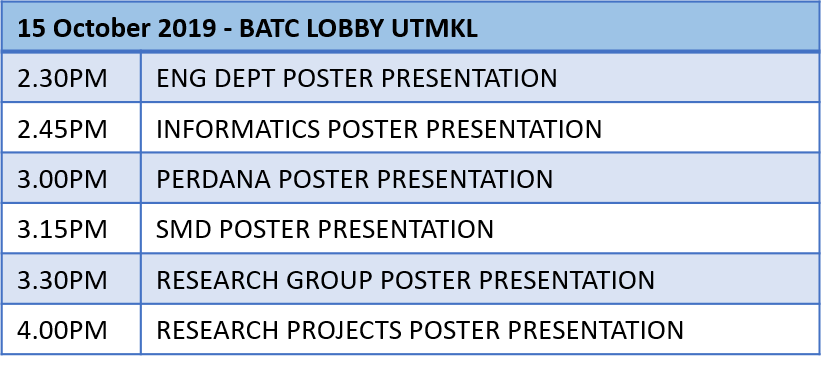 Postgraduate Research
(open to all students of Razak Faculty)
Research Groups
(compulsory to all Research Groups of Razak Faculty)
Research Projects
(open to all Research Project which Project Leader is the member of Razak Faculty)
PARIS2019
16 OCTOBER 2019 (WEDNESDAY) | 9.00am-5.00pm | MENARA RAZAK UTMKL
Postgraduate Annual Research on Informatics Seminar (PARIS 2019) welcomes participants/authors from all organizations, & professional societies from various countries around the world to join/contribute complete, original and unpublished research papers related to the significant advances in computing and informatics.  The conference activities are primarily delivered by and for academics in Informatics field as well as having a strong professional orientation
Full Paper Submission- 27 Sept 2019
Notification of Acceptance-9 Oct 2019
Camera Ready Paper-14 Oct 2019
Business Intelligence & Analytics
Computer System Engineering
Route to Professional Engineer
16 OCTOBER 2019 (WEDNESDAY) | 9.00am-5.00pm | SEMINAR HALL BATC UTMKL
The workshop will introduce participants to overview of Professional Engineer (P.Eng) and what it takes to become a P.Eng for academicians. In the morning session, there will be three sharing sessions with speakers who have become a P.Eng through route 1 (Board of Engineers Malaysia (BEM) Professional Assessment Examination), route 2 (Institution of Engineers Malaysia (IEM) Conventional and Enhanced Professional Interview) and route 3 (Overseas Regulatory Bodies). In the afternoon session, the workshop will cover how to write a technical report, training and experience report for P.Eng application through interactive hands-on session with the speakers.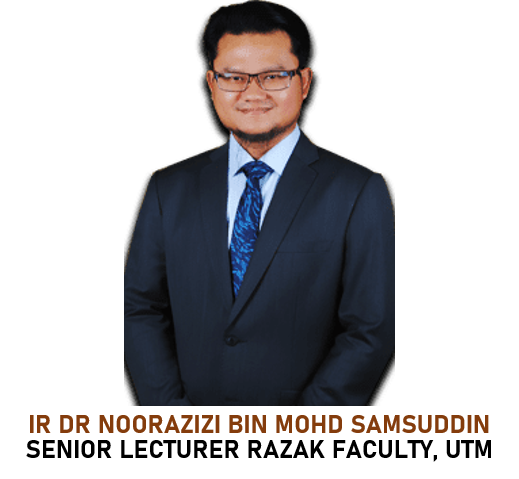 UTMRAZAK DATATHON
16 -18 OCTOBER 2019 (TUESDAY-FRIDAY) | 9.00am-5.00pm | MENARA RAZAK UTMKL
This program enables participants (in a group of 3 to 4) to demonstrate the potential of transforming data into knowledge. It exposes the participants especially the MSc. (Business Intelligence and Analytics) students to perform critical data analysis in a short period of time.  The program runs 24 hours in a computer lab, preceded by a pitching session by the participants.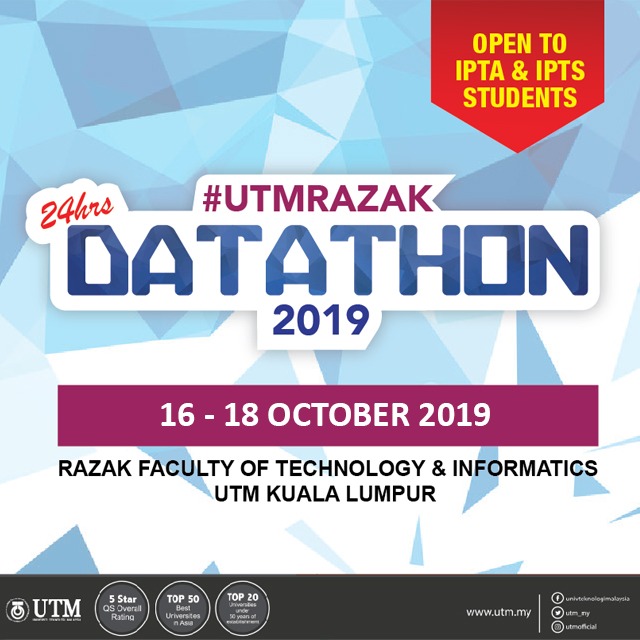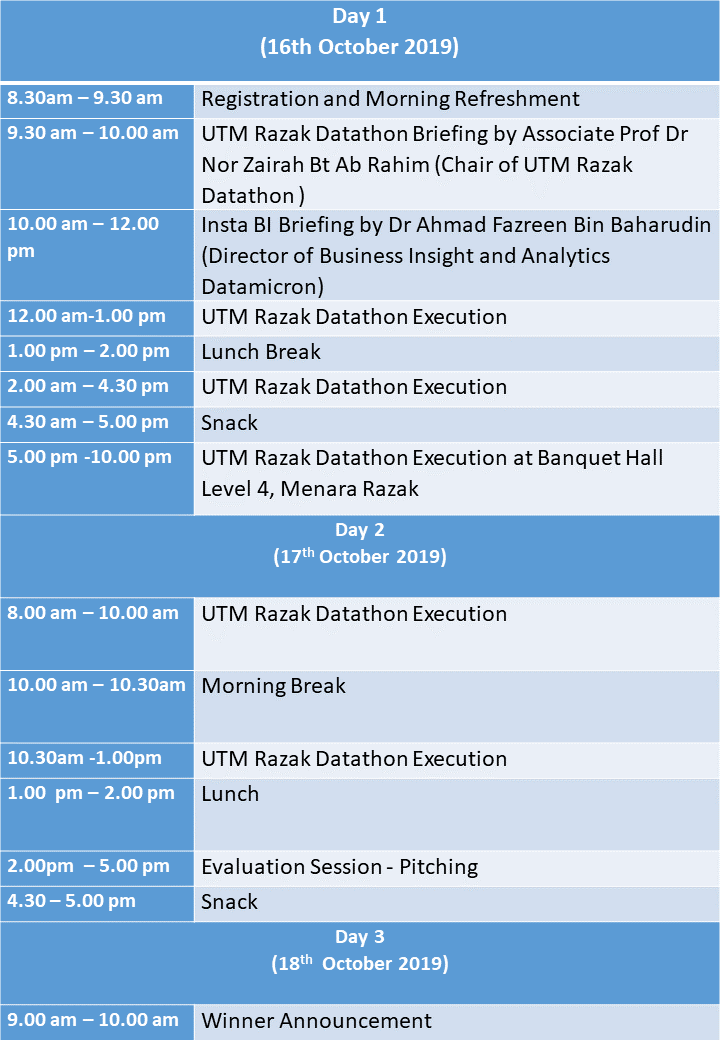 Perdana Policy Research Seminar
17 OCTOBER 2019 (THURSDAY) | 9.00am-5.00pm | SEMINAR HALL MENARA RAZAK UTMKL
The Policy Research Seminar is held primarily for the Perdana's Policy Department postgraduate students to present their research findings as well as exchange views on conducting quality research.  The program objective is to provide a platform for research sharing among Perdana Department postgraduates students.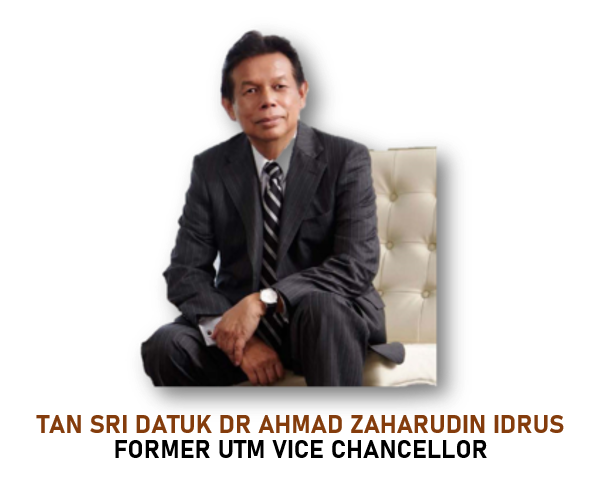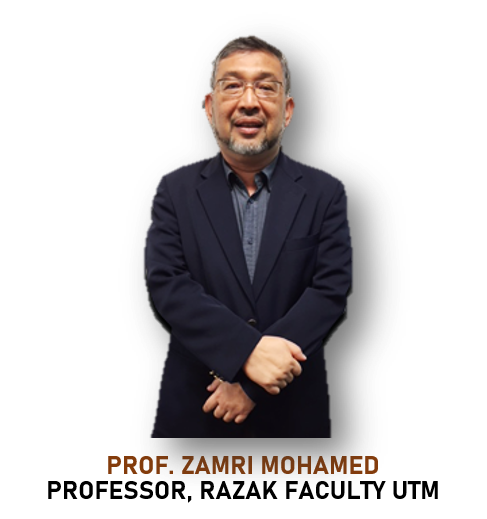 Science, Management and Design
Research Week Activities
#beyondboundaries
17 OCTOBER 2019 (THURSDAY) | 9.00am-5.00pm | SEMINAR HALL BATC UTMKL
In Conjunction with the Razak Faculty of Technology and Informatics Research Week 2019 at UTM Kuala Lumpur,  Department of Science, Management and Design, is organizing several activities with the theme of Beyond Boundaries which include:
Design Exhibition

Seminar

Treasure Hunt

Design Competition

Closing & Award Ceremony
18 OCTOBER 2019 (FRIDAY) | 10am-12pm | SEMINAR HALL BATC UTMKL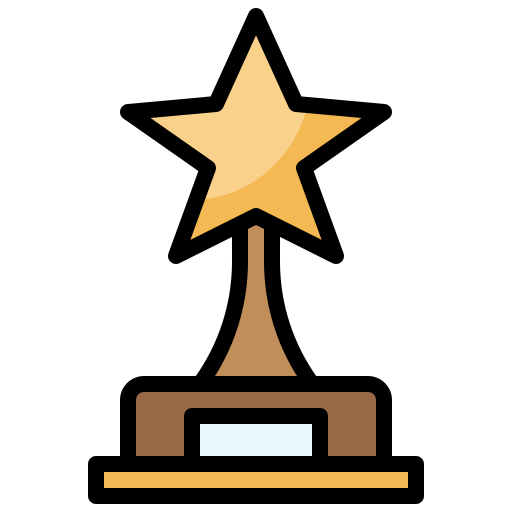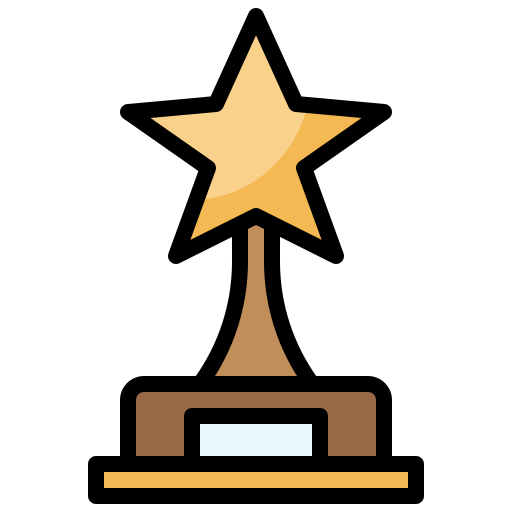 Best Papers Perdana PRS2019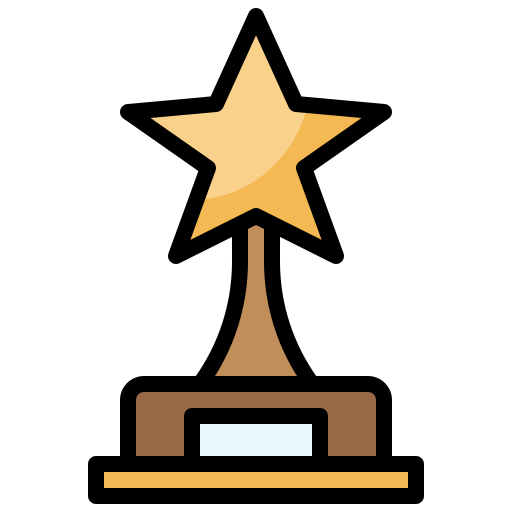 Best Research Posters 2019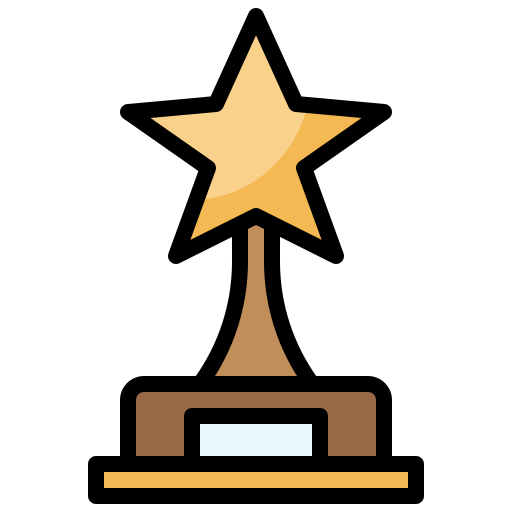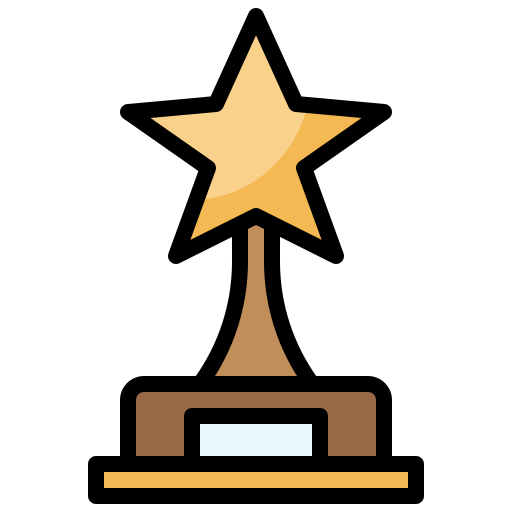 Winners of #beyondboundaries
2019
Research Week 2019 Photo Gallery
For UTMRAZAK Research Week 2018
For more information, please contact:
Dr Nur Azaliah Abu Bakar (azaliah@utm.my) | Pn Siti Salim (siti@utm.my)
Research & Innovation Office
RAZAK FACULTY OF TECHNOLOGY & INFORMATICS
Level 5, Menara Razak
Jalan Sultan Yahya Petra
54100 Kuala Lumpur
Office:+603-21805263  |  Fax: +603-21805370
Email: rf-penyelidikan@utm.my