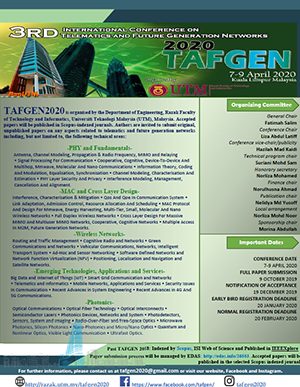 TAFGEN2020 is organised by the Department of Engineering, Razak Faculty of Technology and Informatics, Universiti Teknologi Malaysia (UTM), Malaysia.
Accepted papers will be published in Scopus-indexed journals. Authors are invited to submit original, unpublished papers on any aspects related to telematics and future generation networks including, but not limited to, the following technical areas:
-PHY and Fundamentals
-MAC and Cross Layer Design
-Wireless Networks
-Emerging Technologies, Applications and Services
-Photonics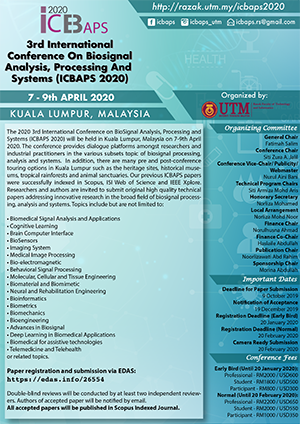 he 2020 3rd International Conference on BioSignal Analysis, Processing and Systems (ICBAPS 2020) will be held in Kuala Lumpur, Malaysia on 7-9th April 2020. The conference provides dialogue platforms amongst researchers and industrial practitioners in the various subsets topic of biosignal processing, analysis and systems.  In addition, there are many pre and post conference touring options in Kuala Lumpur such as the heritage sites, historical museums, tropical rainforests and animal sanctuaries. Our previous ICBAPS papers were successfully indexed in Scopus, ISI Web of Science and IEEE Xplore. Researchers and authors are invited to submit original high quality technical papers addressing innovative research in the broad field of biosignal processing, analysis and systems. More info….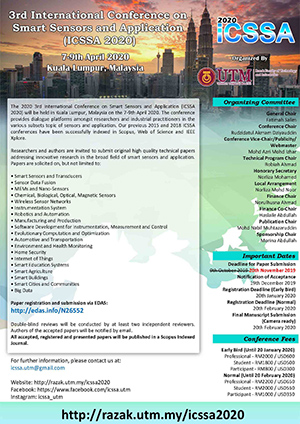 The 2020 3rd International Conference on Smart Sensors and Application (ICSSA) will be held in Kuala Lumpur, Malaysia on the 7-9th April 2020. The conference provides dialogue platforms amongst researchers and industrial practitioners in the various subsets topic of sensors and application. Our previous 2015 and 2018 ICSSA conferences have been successfully indexed in Scopus, Web of Science and IEEE Xplore. More info…
Rental Facilities
Large Seminar Room (100 pax)
Small Seminar Room (40 pax)
Special Programmes
Razak-SAFAT Academy Special Program