RAZAK ANNUAL TECHNOLOGY, INFORMATICS & POLICY SEMINAR (RATIPS2022)
BATC, UNIVERSITI TEKNOLOGI MALAYSIA KUALA LUMPUR
Theme : Knowledge Transformation From Multidisciplinary Perspective in Engineering, Technology, Policy and Social Science 
9 NOVEMBER 2022
RATIPS 2022 is a platform for academician, researchers to share their research work from the paper that they submitted from the field of Engineering, Policy, Science Management and Design and Informatics with the audience. This annual seminar is a seminar organized by the Razak Faculty of Technology and Informatics as a part of event of Razak Research Week that has been organized yearly.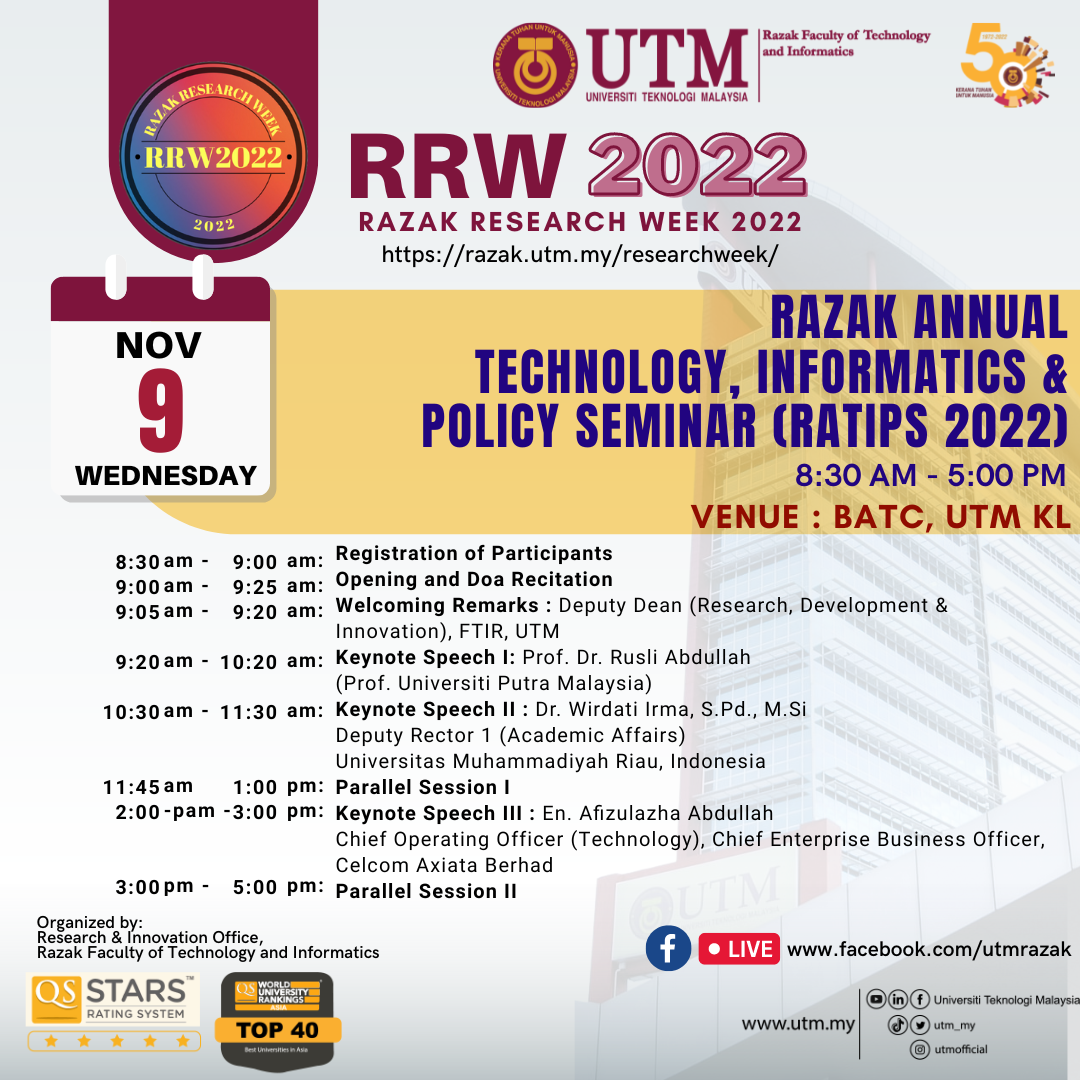 Computer Science, Information Systems, Cybersecurity, Software Engineering, Big Data Analytics, Machine Learning, Computer Systems Engineering, Engineering (Materials, Civil, Electric, Mechanical, Industrial)
Science, Management, Business Administration, Education, Human Resource Management , Design, Policy.

CATEGORY 1: EXTENDED ABSTRACT
Paper in extended abstract submission (3-5pages) will be published in RATIPS proceedings
CATEGORY 2 : FULL PAPER
Accepted Full Paper Submission will be considered for publication in Non-Index Journal OR MyCITE non-indexed journal
Extended Abstract Submission Deadline

22 September 2022

 25 October 2022
Notification to Author : Extended Abstract

25 September 2022

 30 October 2022
Full Paper Submission Deadline

30 September 2022 

28 October 2022
Notification to Author: Full Paper

20 October 2022       

30 October 2022

Registration Deadline
30 October 2022