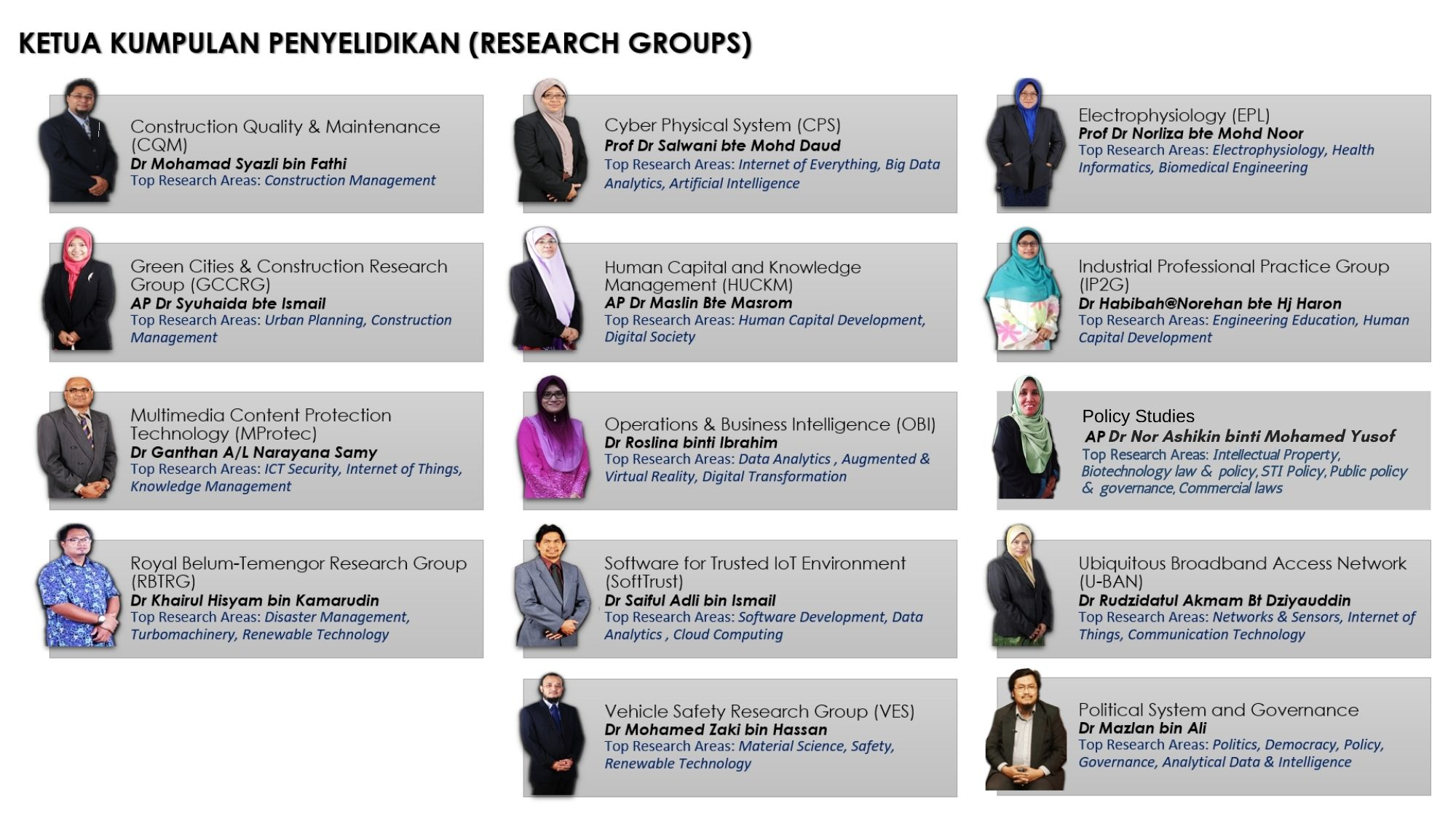 RESEARCH ALLIANCE:
 Smart Digital Community
SALWANI BTE MOHD DAUD (PROF. DR.)-KETUA
AZIZUL BIN AZIZAN (DR.)
HAFIZA BINTI ABAS (DR.)
MOHAMAD ZULKEFLI BIN ADAM (DR.)
MOHD SYAHID BIN MOHD ANUAR (DR.)
NILAM NUR BINTI AMIR SJARIF (DR.)
NOOR AZURATI BINTI AHMAD @ SALLEH (PM.DR.)
SHAMSUL BIN SAHIBUDDIN (PROF. DR.)
SITI SOPHIAYATI BINTI YUHANIZ (PM. DR.)
SURIANI BINTI MOHD SAM (DR.)
YUSNAIDI BIN MD YUSOF (EN.)
Industrial Professional Practice Group (IP2G)
HABIBAH @ NOREHAN HJ HARON (DR.)-KETUA
KAMILAH BT. HAJI RADIN SALIM (DR.)
MORINA BTE ABDULLAH (PM DR.)
NOOR HAMIZAH BT HUSSAIN (DR.)
NOORLIZAWATI BINTI ABD RAHIM (DR)
ROSLIZAR BIN MAT ALI (PM. DR.)
RUZANA BINTI ISHAK (DR.)
SYA AZMEELA BINTI SHARIFF (DR.)
Multimedia Content Protection Technology (MProtec)
GANTHAN A/L NARAYANA SAMY (DR.)-KETUA
MOHD SHAHIDAN BIN ABDULLAH (PM. DR.)
NOOR HAFIZAH BINTI HASSAN (DR.)
NURAZEAN BINTI MAAROP (DR.)
PRITHEEGA A/P MAGALINGAM (DR.)
NORSHALIZA BINTI KAMARUDDIN (DR.)
Operations and Business Intelligence (OBI)
ROSLINA BINTI IBRAHIM (DR.)-KETUA
DORIS WONG HOOI TEN (DR.)
NOR ZAIRAH BINTI AB RAHIM (PM. DR.)
NORZIHA BINTI MEGAT MOHD ZAINUDDIN (DR.)
NUR AZALIAH BINTI ABU BAKAR (DR.)
NURULHUDA FIRDAUS BINTI MOHD. AZMI (DR.)
RASIMAH BT CHE MOHD YUSOFF (DR.)
SURAYA BINTI YA'ACOB (DR.)
NOR ASHIKIN BINTI MOHAMED YUSOF (PM. DR.) -KETUA
AINI SUZANA BINTI ARIFFIN (DR.)
INTAN SAZRINA BINTI SAIMY @ SAMAN (DR.)
NOORAINI BINTI OTHMAN (PM. DATIN DR.)
NOR ASHIKIN BT MOHAMED YUSOF (PM. DR.)
SHADIYA MOHAMED SALEH BA QUTAYAN (DR.)
SITI HASLIAH BINTI SALLEH (DR.)
Software for Trusted IoT Environment (SOFTTRUST)
SAIFUL ADLI BIN ISMAIL (DR.)-KETUA
AZRI BIN AZMI (DR.)
HASLINA BINTI MD. SARKAN (PN.)
MOHD NAZRI BIN KAMA (PM. DR.)
MOHD NAZ'RI BIN MAHRIN (PM.DR.)
OTHMAN BIN MOHD YUSOP (DR.)
SARUDIN BIN KARI (PM. DR.)
SURIAYATI BT CHUPRAT (DR.)
YAZRIWATI BINTI YAHYA (PN.)
RESEARCH ALLIANCE:
Resource Sustainability
RESEARCH ALLIANCE:

Innovative Engineering
Green Cities and Construction (GCC)
SYUHAIDA BINTI ISMAIL (PM. IR. DR.)-KETUA
BASYARAH BINTI HAMAT (DR.)
MOHAMMAD HUSSAINI BIN WAHAB (DR.)
ROHAYAH BTE CHE AMAT (LAR. DR.)
WAN NURUL MARDIAH BINTI WAN MOHD RANI (DR.)
NURUL AZREEN BINTI AZLAN (DR.)
Ubiquitous Broadband Access Network (U-BAN)
RUDZIDATUL AKMAM BT DZIYAUDDIN (DR.) -KETUA
HAZILAH BTE MAD KAIDI (DR.)
LIZA BTE ABDUL LATIFF (PM. DR.)
MOHD AZRI BIN MOHD IZHAR (DR.)
NORLIZA BINTI MOHAMED (DR.)
NORULHUSNA BINTI AHMAD (DR.)
ROBIAH BINTI AHMAD (PM. DR.)
MOHAMAD ZAKI BIN HASSAN (DR.)-KETUA.
ABDUL YASSER ABD FATAH (DR.)
MOHAMED AZLAN BIN SUHOT (DR.)
MOHD YUSOF BIN MD.DAUD (DR.)
NOORAZIZI BIN MOHD SAMSUDDIN (DR.)
NURUL HUDA BINTI AHMAD (DR.)
ROSLINA BINTI MOHAMMAD (DR.)
SA'ARDIN BIN ABDUL AZIZ (DR.)
SALLEHUDDIN BIN MUHAMAD (PM)
RESEARCH ALLIANCE:

Health and Wellness
NORLIZA BTE MOHD NOOR (PROF. DR.)-KETUA
HASLAILE BINTI ABDULLAH (PN.)
NURUL AINI BINTI BANI (DR.)
SHARIPAH ALWIAH BT SYED ABD RAHMAN (DR.)
SITI ARMIZA BINTI MOHD ARIS (DR.)
SITI HAIDA BINTI ISMAIL (DR.)
SITI ZURA BINTI A JALIL @ ZAINUDDIN (DR.)
Membership in Other RG & CoE
ADVANCED MANUFACTURING RESEARCH GROUP
KHAIRUR RIJAL BIN JAMALUDIN (PM DR.)
ROZZETA BINTI DOLAH (DR.)
INDUSTRIAL AND SYSTEMS ENGINEERING RESEARCH GROUP (ISERG)
ABDUL RAHMAN BIN ABD. RAHIM (PM. DR.)
FAIZIR BIN RAMLIE (DR.)
HALIM SHAH BIN HAMZAH (DR.)
HAYATI @ HABIBAH BINTI ABDUL TALIB (DR.)
SHA'RI MOHD YUSOF (PROF. IR. DR.)
MATERIALS RESEARCH AND CONSULTANCY GROUP (MRCG)
1. ASTUTY BINTI AMRIN (PM.DR.)
SEPARATION SCIENCE AND TECHNOLOGY (SEPSTEC)
ROSMAHAIDA BINTI JAMALUDIN (DR.)
RELIABILITY ENGINEERING AND SAFETY ASSESSMENT RESEARCH GROUP (RESA)
MOHD KHAIRI BIN ABU HUSAIN (DR)
NOOR IRZA BINTI MOHD ZAKI (DR.)
AUTOMOTIVE DESIGN
ABDUL MUTA'ALI BIN OTHMAN (PM)
KAMAL AZAM BIN BANI HASHIM (EN.)
MOHD KHAIRULANWAR BIN MOHD DAHURI (EN.)
COMMUNICATION SYSTEMS AND NETWORKS (CSN)
NELIDYA

BINTI MD. YUSOFF (DR.)
CLIMATE CHANGE
SAMIRA ALBATI BT. KAMARUDDIN (DR.)
REAL ASSET
SITI UZAIRIAH BINTI MOHD TOBI (DR.)
TUTI HARYATI BINTI JASIMIN (DR.)
WASTER RECOVERY
NORAZLI BINTI OTHMAN (DR.)
SHREESHIVADASAN A/L CHELLIAPAN (PROF. DR.)
UTM OCEAN THERMAL ENERGY CENTRE (OTEC)
A BAKAR BIN JAAFAR (PROF. DATO' IR. DR.)
SATHIABAMA A/P T. THIRUGNANA (DR.)
FATIMAH BINTI SALIM (DR.)
COMMUNICATION, CULTURE AND INTERNALIZATION (CCI)
NOR

MAWATI

BTE MOHD SHARIFF (PM. DR.)
TECHNICAL AND VOCATIONAL EDUCATION AND TRAINING (TVET)
ASNUL

DAHAR BIN

MINGHAT

(DR.)
VALUE, CULTURE AND ETHICS (VCE)
MAZLAN BIN ALI (DR.)
MUHAMMAD FATHI BIN YUSOF (DR.)
ENGINEERING EDUCATION (EERG)
ZAINAI BIN MOHAMED (EMERITUS PROF. DATO' IR. DR.)