Master Of Science (Information Assurance)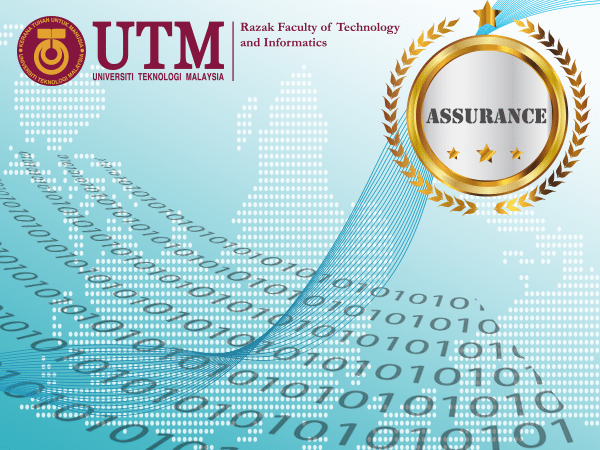 Introduction

Information Assurance (IA) is the practice of assuring information and managing risks related to the use, processing, storage, and transmission of information. While focused dominantly on information in digital form, the full range of IA encompasses not only digital but also analog or physical form. Information assurance as a field has grown from the practice of information security, which in turn grew out of practices and procedures of computer security. IA also is best thought of as a superset of information security, integrating people, technology and operations to establish security and protection across multiple layers and dimensions.
The MSc (Information Assurance) programme offered by Razak Faculty of Technology and Informatics will be the integration of digital forensic science, security engineering, IT risk management of management systems and standard compliance towards a safe and secured information society against emerging threats.
PROGRAM OBJECTIVES & OUTCOMES
PROGRAM OBJECTIVES
Practice in-depth and specialist knowledge of Penetration Testing and Network Security to effectively assured information security in organizational.
Demonstrate business acumen and higher-order thinking skills necessary to solve complex organizational information and decision problems through research, innovation and creativity which drive them to sustain intellectual curiosity and know how, and be lifelong learners
Show adaptability in different roles, responsibilities, surroundings and communities, enabling them to contribute and lead in their organizations and society
Demonstrate effective communication skills to a wide variety of audiences and practice professional, ethical, and societal responsibilities
PROGRAM OUTCOMES
Integrate and generate in-depth information assurance knowledge in professional practices for the benefit of information assurance discipline
Organise, construct and verify a set of activities to solve information assurance problem
Evaluate situations and react and display through discussion and communication among peers and others.
Integrate information assurance professional ethics in the profession, organisation and society.
Organise and adapt contemporary knowledge independently and manage information effectively and securely.
Demonstrate managerial and enterprising skills.
PROGRAM STRUCTURE
Core Courses (Compulsory)
MANA 1523: Data Quality Assurance
MANA 1563: E-Crime Investigation and Incidence Response Management
MANA 1513: Information Engineering
MANA 1533: Enterprise Information Assurance
MANA 1543: Access Control and Perimeter Protection
MANA 1573: Cyber Law and Ethical Issues
Elective Course (Choose Three (3) only)
MANA 2633: Information Assurance Architecture and Technologies
MANA 2733: Enterprise Risk Management
MANA 2833: Penetration Testing and Protection Mechanism
MANA 2433: Critical Infrastructure Security and Cyber Threats
MANA 2533: Biometrics in Information Assurance
MANA 2623: Wireless Infrastructure Security
MANA 2123: Issues in Information Assurance
MANA 2723: Software Development and Vulnerability Analysis
MANA 2223: Applied Cryptography
MANA 2133: Principles of Business Continuity Management
Master Project
MANA 1015: Master Project 1
MANA 2027: Master Project 2
University General Courses
Compulsory
UANP 0013: Research Methodology
Choose one (1) only
UANP 6013: Informatics in Society
UHAP 6013: Seminar on Global Development, Economic and Social Issues
Course structure for Package 01 Students
YEAR 1

SEMESTER 1
SEMESTER 2
Code
Course Name
Credit
Code
Course Name
Credit
MANA 1523
Data Quality Assurance
03
MANA 1513
Information Engineering
03
MANA 1563
E-Crime Investigation and Incident Response Management
03
MANA 1533
Enterprise Information Assurance
03
UANP 0013
Research Methodology
03
MANA 1543
Access Control and Perimeter Protection
03
MANA 2xx3
Elective 1
03
MANA 2xx3
Elective 2
03
UANP 6013
Informatics in Society
03
MANA 1015
Project 1
05
Total
15
Total
17
YEAR 2
SEMESTER 1
Code
Course Name
Credit
MANA 1573
Cyber Law and Ethical Issues
03
MANA xxxx
Elective 03
03
MANB 2027
Master Project 2
07
Total
13
Course structure for Package 02 Students
YEAR 1
SEMESTER 1
SEMESTER 2
Code
Course Name
Credit
Code
Course Name
Credit
MANA 1523
Data Quality Assurance
03
MANA 1513
Information Engineering
03
MANA 1563
E-Crime Investigation and Incident Response Management
03
MANA 1533
Enterprise Information Assurance
03
UANP 0013
Research Methodology
03
MANA 1543
Access Control and Perimeter Protection
03
MANA 2xx3
Elective 1
03
MANA 2xx3
Elective 2
03
Total
12
Total
12
YEAR 2
SEMESTER 1
SEMESTER 2
Code
Course Name
Credit
Code
Course Name
Credit
MANA 1573
Cyber Law and Ethical Issues
03
MANA 2027
Project 2
07
MANA 2xx3
Elective 3
03
UANP 6013
Informatics in Society
03
MANA 1015
Project 1
05
Total
14
Total
7
ENTRY REQUIREMENT
AWARD REQUIREMENT
Student will be awarded with Master of Science (Information Assurance) or after graduating and meet the conditions set by UTM as below:
Pass all courses with a total accumulated credit of 45 and pass CGPA of 3.0 and above.
Achieved all conditions given in the preparation of Masters Project
An applicant has applied for the award of Master of Science