Master of Science (Engineering Design)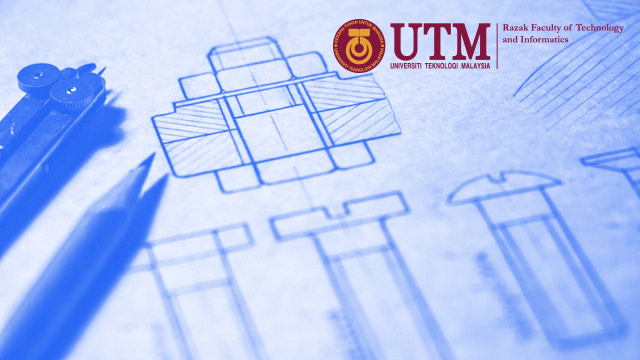 Introduction
Master of Science (Engineering Design) program supports the 'Creation of Lifelong Learning' core by offering knowledge-boosting opportunities to graduates who are background in Bachelor of Engineering, Bachelor of Technology and Bachelor of Science. The strengthening of the knowledge contained in this postgraduate program encompasses product design, mechanical systems and electrical systems that aims to produce expert graduates who can develop innovative solutions of a system or product by taking into account the benefits of the community and the preservation of the environment.
In addition to core courses, the program provides three elective fields; mechanical system design, product design and electronic system design. These three electives comprise the current engineering requirements. The program also offers methods, models and tools for designing mechanical products and designing industrial management systems. Technical, humanitarian and economic factors are also taken into account to strengthen the course outcomes. The rapidly growing microelectronic technology, regardless of the world's economic climate, requires experienced engineers and knowledgeable technologists. Graduates acquired knowledge of integrating intelligent control systems and mechanical and electronic devices to produce innovative consumer products.
Career in product design requires the knowledge of producing products that meet the needs of the users, consumers and the community. The fast growing of product generation is now a priority. Candidates will be exposed to the processes and elements involved in the development of a product such as creativity impulse and management methods.
PROGRAM OBJECTIVES & OUTCOMES
This program will produce graduates who are able to:
Demonstrate the engineering design knowledge obtained from this program when creating innovative solutions to industry-related problems (Knowledge – thinking skills and practical skills)
Exhibit effective communication skill among multi-disciplinary team members.(Communication, team work, social skills)
Uphold professional ethics when executing responsibilities and taking into account society, environment and global issues. (Leadership, professionalism, humanities, ethics, managerial skills)
Enhance related knowledge in engineering design via sound information management and lifelong learning. (Information Management, Life-long learning)
Program Outcomes
Ability to integrate and generate advanced engineering design knowledge to develop or create innovative product and process solution in a new situation or context.
Ability to analyze and evaluate problems critically and provide solutions through the use of appropriate tool and techniques
Ability to assess situation and to communicate effectively in relation to research outcome, knowledge and give suggestion rationally to peers and experts in related area as well as to lead and work in team.
Ability to plan and execute design work/project professionally, ethically and responsibly, taking into consideration the interest of pemegang taruh and the environment.
Ability to organize and adapt contemporary knowledge in engineering design and manage obtained information effectively.
Ability to manage complex matters in engineering design and identify Entrepreneurship opportunities.
PROGRAM STRUCTURE
This program is offered on full-time basis and based on a 3-Semester Academic Year with several subjects being delivered and assessed in each semester. Assessment is based on tests, assignment, presentation, case studies and project presentation conducted throughout the semester. Students are required to take all subjects comprised in the core engineering design courses.
LANGUAGE OF INSTRUCTION
English
MODE OF STUDY
Modular
MODE OF OPERATION
Self-govern
STUDY SCHEME
Package 01 (Weekdays Class) and Package 02 (Weekend Class
STUDY DURATION
Package 01 (Weekdays Class): 1 ½ years
Package 02 (Weekend Class) : 3 years
IMPLEMENTATION MODE
PACKAGE 1
PACKAGE 2
Classes During Weekday
Classes during Weekend
TYPE OF
SEMESTER
NO. OF SEMESTER

NO. OF WEEKS

PACKAGE 01
PACKAGE 02
PACKAGE 01
PACKAGE 02
MIN
MAX
MIN
MAX
42
56
NORMAL
3
8
4
8
SHORT
–
–
–
–
Core Courses (Compulsory)
MRSM1213: Engineering Design Optimization
MRSM 1223: Technovation Management
MRSM 1233: Engineering Design Process and Methodology
MRSM 1243: Materials Selection and manufacturing Process
MRSM 1253: Computer Aided Design (CAD) / Computer Aided Engineering (CAE)
MRSE 2603: Creativity and Innovation Management
Elective Course
Mechanical System Design Elective
MRSM 2213: Automotive Engineering Design
MRSM 2223: Design for Reliability
MRSM 2233: Fluid Power
MRSM 2243: New Product Development
MRSM 2253: Mechatronics System Design
MRSM 2263: Metrology and Measurement
MRSM 1823: Special Topic
Products Design Elective
MRSM 2273: Life Cycle Cost Analysis for Engineers
MRSM 2283: Design for Sustainability
MRSM 2293: Entrepreneurship and Marketing
MRSM 2303: Theory of Inventive Problem Solving (Triz)
MRSM 2313: Robust Product Design
MRSM 2323: Industrial Design and Human Factors
MRSM 1823: Special Topic
Electronics System Design Elective
MKEL 1173: Advanced Digital System Design
MKET 1423: Wireless Communications Systems
MKET 1463: Advanced Communications Electronics
MRSL 1443: Advanced Sensor System
MANN 1053: System Processors and Peripherals
MRSM 1823: Special Topic
Master Project
MRSM 1914: Master Project 1
MRSM 2926: Master Project 2
University General Courses
Compulsory
URSP 0013: Research Methodology
Choose 1
URSP 6013: Environmental Ethics
URSP 6023: Information and Communication Technology Ethics and Society
UHAP 6013: Seminar on Global Development, Economic and Social Issues
UHAW 6023: Philosophy of Science and Social Development
UHAF 6033: Dynamics of Leadership
UHAZ 6123: Malaysian Society and Culture
UHAZ 6323: Malay Language for Postgraduates
UDPE 1123: Organizational Behavior and Development
UCSM 1263: IT Project Management
ULAJ 1163: Japanese Language
ENTRY REQUIREMENT
AWARD REQUIREMENT
Students should:
• Pass all courses.
• Achieve a total of 46 credit hours with a minimum of cumulative 'B' grade or CGPA of 3.0
Master Project.
Pass Master Project through oral presentation and submission of a comprehensive master project report with a maximum of 200 pages.