Engineering Doctorate (Eng.D)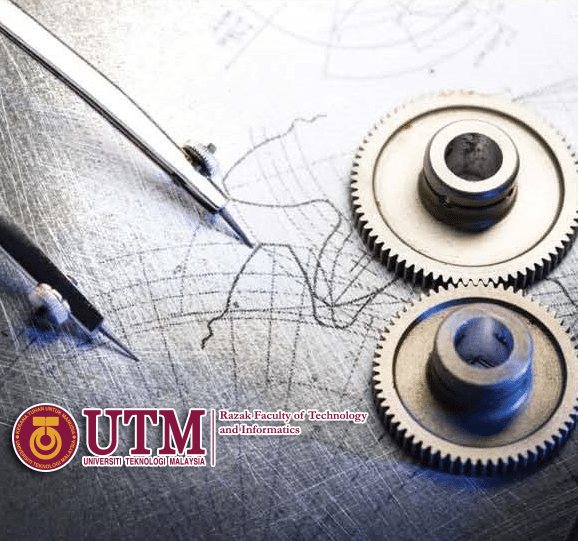 Our Engineering Doctorate (Eng.Doc) programme is aimed at developing individuals who are able to conduct research at doctoral level by tackling real-life industrial problems and implement innovative solutions in which significantly contribute to the business performance of their companies.
INTRODUCTION
Engineering Doctorate (Eng.Doc) is a mixed mode doctoral programme that embed the industrially-focused area into research with an aim of solving real-life-work-based problems. It combines research in engineering which incorporates training in business with management skills into developing innovative solutions to technological products or processes.
The Eng.Doc graduates will have equivalent doctoral-level qualification with more industrially-based focused than the conventional Doctor of Philosophy. Research which aimed in solving real problems are able to make decisions inclusive of technical knowledge, business management and opportunity and contribute to innovative solutions
PROGRAM SPECIFICATIONS
1.
PROGRAM NAME

Engineering Doctorate (Engineering Business Management)

2.
AWARD NAME

Doctor of Engineering (Engineering Business Management)

3.
AWARDING INSTITUTION

UTM

4.
TEACHING INSTITUTION

Razak Faculty of Technology and Informatics UTM Kuala Lumpur

5.

PROFESSIONAL OR

STATUTORY BODY OF ACCREDITATION

MOHE

6.
LANGUAGE OF INSTRUCTION

English

7.
MODE OF STUDY

Mixed-Mode

8.
MODE OF OPERATION

Self-govern

9.
STUDY SCHEME

Full Time

10.
STUDY DURATION

Full-time: 3- 8 years

IMPLEMENTATION MODE

PACKAGE 1
PACKAGE 2

NUMBER OF SEMESTERS

MIN
MIN

6

8

Max

Max

12

16
PROGRAM STRUCTURE
The Eng.D programme consists of two components: taught-course modules and research project. The taught-course components covering topics to enhance candidates' knowledge and skills in Engineering Business Management (EBM). While, the scope of research project on industry-focused applied-research project, guided by academic and industrial supervisors is aimed at solving real-life-work-based problems innovatively. There are 8 modules that has to be completed by the candidate with a total of 24 credits. Candidates must achieve a minimum CPA of 3.00 for the taught course modules.
While the research projects contribute of 56 credits. This makes a total of 80 credits for the completion of the study. At the end of the study, the candidate must submit a dissertation and undertake an oral examination (viva-voce). The minimum period of study for candidates is 3 years (6 semesters) and a maximum of 8 years (16 semesters).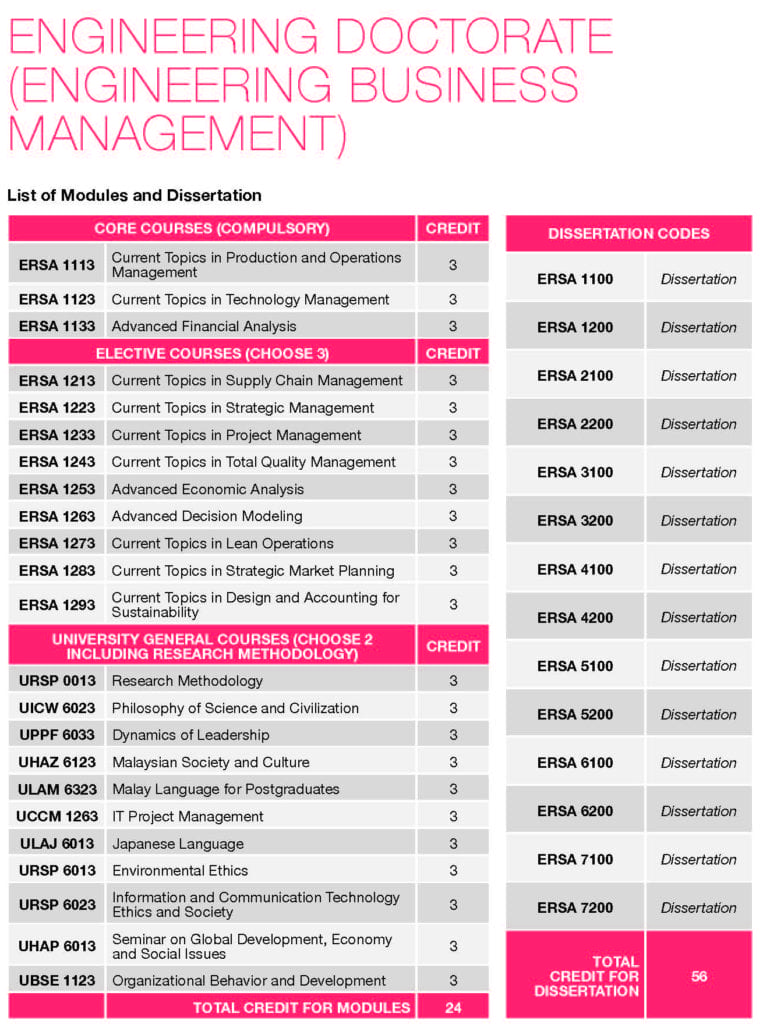 Credit of Modules (24) + Dissertation (56) = 80
Total credits accumulated for Eng.D programme is 80 credits
** The faculty Elective Courses will be offered depending on the number of students who enrolled for that particular elective module.
ENTRY REQUIREMENT
COMPETENCIES EXPECTED
Program Educational Objectives (PEO)
| | |
| --- | --- |
| PEO | PEO  |
| PEO1 | Graduate able to acquire and apply in-depth engineering business management knowledge that can give an impact to the industry and society of both national and international. |
| PEO2 | Graduate able to become researchers with their expertise in the management engineering field who take into account the latest knowledge and within the professional code practice and integrity |
| PEO3 | Graduates able to nurture, promote professionalism and ethical responsibilities including contemporary issues, environmental awareness and lifelong learning |
| PEO4 | Graduate able to become effective leaders and innovative industry leaders in solving the real problems and are able to make decision inclusive of technical knowledge, business management and business opportunity |
Program Learning Outcomes (PLO)
| | | | |
| --- | --- | --- | --- |
| PLO | PLO  | UTM Domain | MQF Domain |
| PLO1 | Integrate advanced engineering business management knowledge in managing operation and management issues. | Advanced knowledge | Knowledge |
| PLO2 | Formulate and develop research competently in engineering business management. | Research skills | Practical Skills |
| PLO3 | Evaluate problems critically and propose appropriate solutions. | Critical Thinking and Problem solving | Social Skills and Responsibilities |
| PLO4 | Demonstrate ethical values and professionalism in executing duties and responsibilities. | Ethics, Values, professionalism | Values, Attitudes and Professionalism |
| PLO5 | Communicate effectively among stakeholder and peers. | Communication | Communication, Leadership and Team Skills |
| PLO6 | Organize and adopt contemporary knowledge in engineering business management. | Lifelong Learning | Problem Solving and Scientific Skills |
| PLO11 | Demonstrate management skill and identify business opportunities. | Managerial and Entrepreneurial Skills | Managerial and Entrepreneurial Skills |
RESEARCH PROJECT, SUPERVISION, ASSESSMENT & CAREER PROSPECTS
RESEARCH PROJECT
The Eng.D research project must be based on an industry. An agreement should be obtained from the top management of the industry or the cooperating company regarding their support and commitment to the Eng.D research project.
SUPERVISION
The candidate will be supervised by an Academic Supervisor who is a full-time graduate faculty of UTM and a co-supervisor who holds a senior management post in the industry. If necessary, more than one Academic Supervisor may be appointed for a candidate.
ASSESSMENT
All taught course modules are graded according to the UTM postgraduate Grading System. The candidate must maintain a minimum 3.00 CPA and a minimum grade of B- for each taught course module. The candidate must submit a progress report of their research via online and present their progress at faculty colloquium. This colloquium is compulsory and evaluation of progress report is dependent on the outcome of the colloquium.
CAREER PROSPECTS
Work opportunity ranges from project work in the private sector via product development management, construction and product design to interaction design and usability experts.