Master Programme related to Research Group.
MASTER OF SCIENCE (INFORMATION ASSURANCE)
Information Assurance (IA) is the practice of assuring information and managing risks related to the use, processing, storage, and transmission of information. While focused dominantly on information in digital form, the full range of IA encompasses not only digital but also analog or physical form. Information assurance as a field has grown from the practice of information security, which in turn grew out of practices and procedures of computer security. IA also is best thought of as a superset of information security, integrating people, technology and operations to establish security and protection across multiple layers and dimensions.
Information Assurance and Security at Universiti Teknologi Malaysia, Kuala Lumpur Malaysia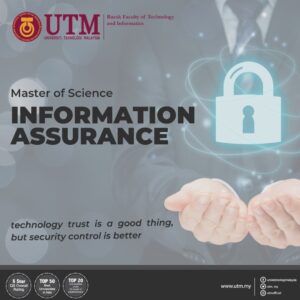 Detail Information : https://razak.utm.my/msc-information-assurance/
Location : Universiti Teknologi Malaysia Kuala Lumpur 
Brochure : Download Brochure
Contact Us:
Program Coordinator : Dr. Noor Hafizah Hassan  (noorhafizah.kl@utm.my)
Apply now : Click HERE