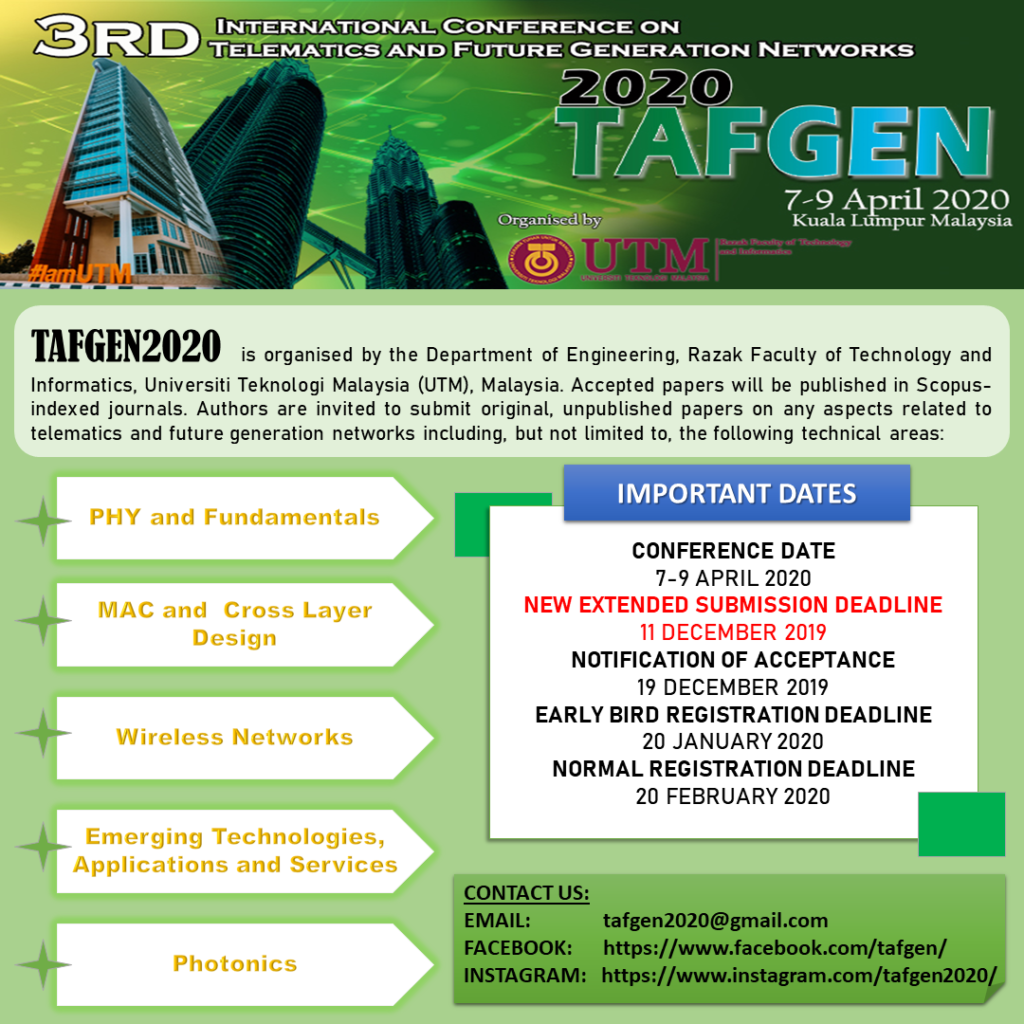 Join us for the 3rd International Conference on Telematics and Future Generation Networks to be held 7-9 April 2020, in Kuala Lumpur Malaysia.
TAFGEN2020 is organised by the Department of Engineering, Razak Faculty of Technology and Informatics, Universiti Teknologi Malaysia (UTM), Malaysia.
Accepted papers will be published in Scopus-indexed journals. Authors are invited to submit original, unpublished papers on any aspects related to telematics and future generation networks including, but not limited to, the following technical areas:
-PHY and Fundamentals
Antenna, Channel Modeling, Propagation & Radio Frequency, MIMO And Relaying • Signal Processing For Communication • Cooperative, Cognitive, Device-To-Device And Multihop, Mmwave, Molecular And Nano Communications • Information Theory, Coding And Modulation, Equalisation, Synchronisation • Channel Modeling, Characterisation And Estimation • PHY Layer Security And Privacy • Interference Modeling, Management, Cancellation And Alignment.
-MAC and Cross Layer Design
Interference, Characterisation & Mitigation • Qos And Qoe In Communication System • Link Adaptation, Admission Control, Resource Allocation And Scheduling • MAC Protocol And Design For Mmwave, Energy Harvesting, Multi-Tier, Small, Molecular And Nano Wireless Networks • Full Duplex Wireless Networks • Cross Layer Design For Massive MIMO And Multiuser MIMO Networks, Cooperative, Cognitive Networks • Multiple Access In M2M, Future Generation Networks.
-Wireless Networks
Routing And Traffic Management • Cognitive Radio And Networks • Green Communications And Networks • Vehicular Communications, Networks, Intelligent Transport System • Ad-Hoc And Sensor Networking • Software Defined Networks And Network Function Virtualization (NFV) • Positioning, Localisation And Navigation And Satellite Networks.
-Emerging Technologies, Applications and Services
Big Data And Internet Of Things (Iot) • Smart Grid Communication And Networks • Telematics And Informatics • Mobile Networks, Applications And Services • Security Issues In Communication • Recent Advances In System Engineering • Recent Advances In 4G And 5G Communications.
-Photonics
Optical Communications • Optical Fiber Technology • Optical Interconnects • Semiconductor Lasers • Photonics Devices, Networks And System • Photodetectors, Sensors, System And Imaging • Radio-Over-Fiber And Free-Space Optics • Microwave Photonics, Silicon Photonics • Nano-Photonics And Micro/Nano Optics • Quantum And Nonlinear Optics, Visible Light Communication • Ultrafast Optics.
Paper submission process will be managed by EDAS: http://edas.info/26553. Papers should be a maximum of ten (10) pages, minimum of eight (8) including figures, tables, references and appendices. Use the standard NEW TEMPLATE for Microsoft Word.
Accepted papers will be published in the selected Scopus indexed journal.
Past TAFGEN 2018: Indexed by Scopus and Published in IEEEXplore, the selected extended paper were published in ECSI-WOS Indexed Journal.
Paper Review
Paper review will be performed as per regular papers submitted to the conference.
****For TAFGEN 2020, for every FIVE (5) paid registrations, ONE (1) complementary registration will be offered by the organizer.