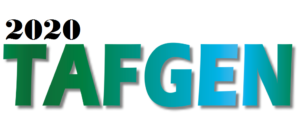 IMPORTANT NOTIFICATION
Dear authors,
The World Health Organization (WHO) has formally declared the COVID-19 outbreak a pandemic on 12th March 2020. According to WHO, pandemic means a "sudden increase in the number of cases all over the world, usually affecting a large number of people". The Government of Malaysia has imposed a movement control order for 14 days starting 18th March 2020 throughout the whole country. All social gatherings thereafter including international meetings, conferences, sporting events, social and religious assemblies are strictly banned.
The safety and well-being of TAFGEN2020 participants is our priority. Therefore, due to growing concerns about COVID-19, we regretfully announce that the TAFGEN2020 will cancel its physical conference this year, instead of shifting to a fully VIRTUAL CONFERENCE. This unfortunate event does give us the opportunity to innovate on how to host an effective virtual conference. Therefore, organizing committees are now working very hard to create a virtual conference that will be valuable and engaging for both presenters and participants.
The virtual conference is scheduled to be held on 6-7 MAY 2020. Hence, all presenters for TAFGEN2020 are required to prepare a Virtual Video Presentation and must follow the guidelines for the preparation of your VIDEO PRESENTATION. The guidelines can be downloaded HERE.
The conference kit will be posted to participant (ONE conference kit for ONE paper registered and paid). Kindly a representative author of the paper to email us the postal address.
Our thoughts and prayers are with those affected by COVID-19 around the world. It is our greatest hope that everyone remains healthy and safe. We apologize for any inconvenience this may have caused our participants. We thank you for your support and understanding.
Stay safe!
Best Regards,
TAFGEN2020 Secretariat
=====================================================
URGENT ANNOUNCEMENT!
Due to the current situation of Covid-19 outbreak, the Malaysian government has imposed a coronavirus response measure. This is to quarantine (at least 14 days) individuals with the coronavirus symptoms and those who are from highly affected countries.
Due to this outbreak, our conference will not bear any related circumstances.
Thus, our preventive step is to give an option to all participants to prepare a video presentation that will be played during the conference day. Please contact us at tafgen2020@gmail.com for further clarification.
Thank you and stay safe and healthy.
=====================================================
Join us for the 3rd International Conference on Telematics and Future Generation Networks to be held 7-9 April 2020, in Kuala Lumpur Malaysia.
TAFGEN2020 is organised by the Department of Engineering, Razak Faculty of Technology and Informatics, Universiti Teknologi Malaysia (UTM), Malaysia.
Accepted papers will be published in Scopus-indexed journals. Authors are invited to submit original, unpublished papers on any aspects related to telematics and future generation networks including, but not limited to, the following technical areas:
-PHY and Fundamentals
-MAC and Cross Layer Design
-Wireless Networks
-Emerging Technologies, Applications and Services
-Photonics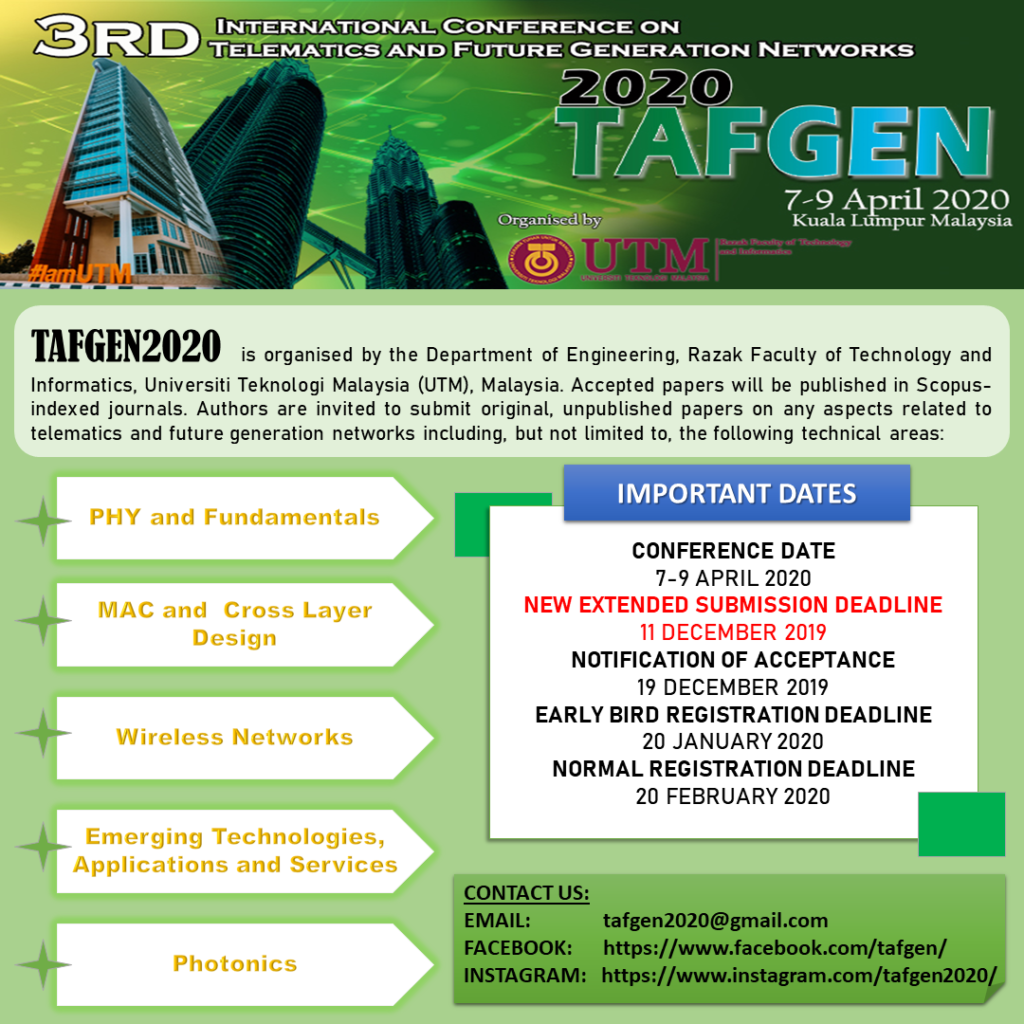 All accepted papers are eligible for the following awards:
BEST PAPER AWARD

BEST STUDENT PAPER AWARD