TRANSROYAL: MULTI-INTER-TRANS-DISCIPLINARY GEO-BIOSPHERE RESEARCH INITIATIVES IN THE ROYAL BELUM AND TEMENGOR FOREST COMPLEX (RBTFC) GERIK PERAK
Khamarrul Azahari Razak*, RozaimiChe Hasan, Khairul Hisyam Kamarudin, Habibah @ Norehan Harun, ShamsulSarip, Rudzidatul Akmam Dziyauddin, Sharihan Fathi
UTM Razak School of Engineering and Advanced Technology, UniversitiTeknologi Malaysia (UTM) Kuala Lumpur Campus, Malaysia
Corresponding author*:  khamarrul.kl@utm.my
Summary: Integrated research on biosphere as a result of human and natural activities in the tropics is very challenging. This paper presents multi-inter-trans-disciplinary (MIT) research initiatives carried out by TRANSROYAL focusing on the terrestrial- and aquatic ecosystem including human livelihoods in the Royal Belum-Temengor Forest Complex, Perak. Despite its status as a mega-biodiversity area, only few attempts have been made to conduct a centralized and integrated research to support the resource management, sustainable developments and climate change. This study provides a better insight into MIT approaches for a better understanding of the ecological system and improving human interaction in a changing environment.
Keywords—Royal Belum State Park, Multi-Inter-Trans-disciplinary research, Geo-Security, Geo-Biodiversity and Ecosystem, Geo-Sustainability, Rural Technology
To view a complete paper, please  follow this link: Abstract TRANSROYAL
————————————————————-

Sustainable Eco-Culture Tourism in Royal-Belum-Temenggor Forest Complex, Perak: Emerging Prospects and Challenges for Orang Asli emphasis on the concept of sustainable eco-culture tourism (ECT).
Download here for further info on the related topic.
—————————————————————————–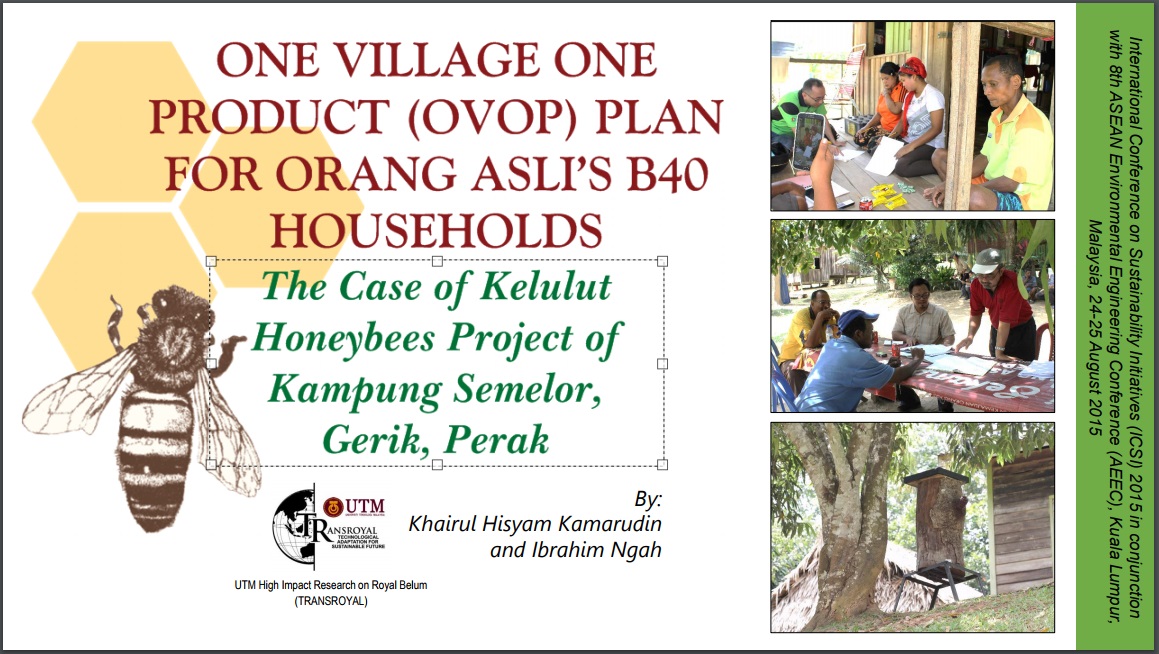 One Village One Poduct Plan is an inclusive development strategy to address the need of  Orang Asli's B40 group. The research is mainly focus on the case of Kelulut honeybees (Stingless bee) project in Kampung Semelor, Gerik, Perak.
Follow this useful link to view more on our research on One Village One Product Plan for Orang Asli.
——————————————————————————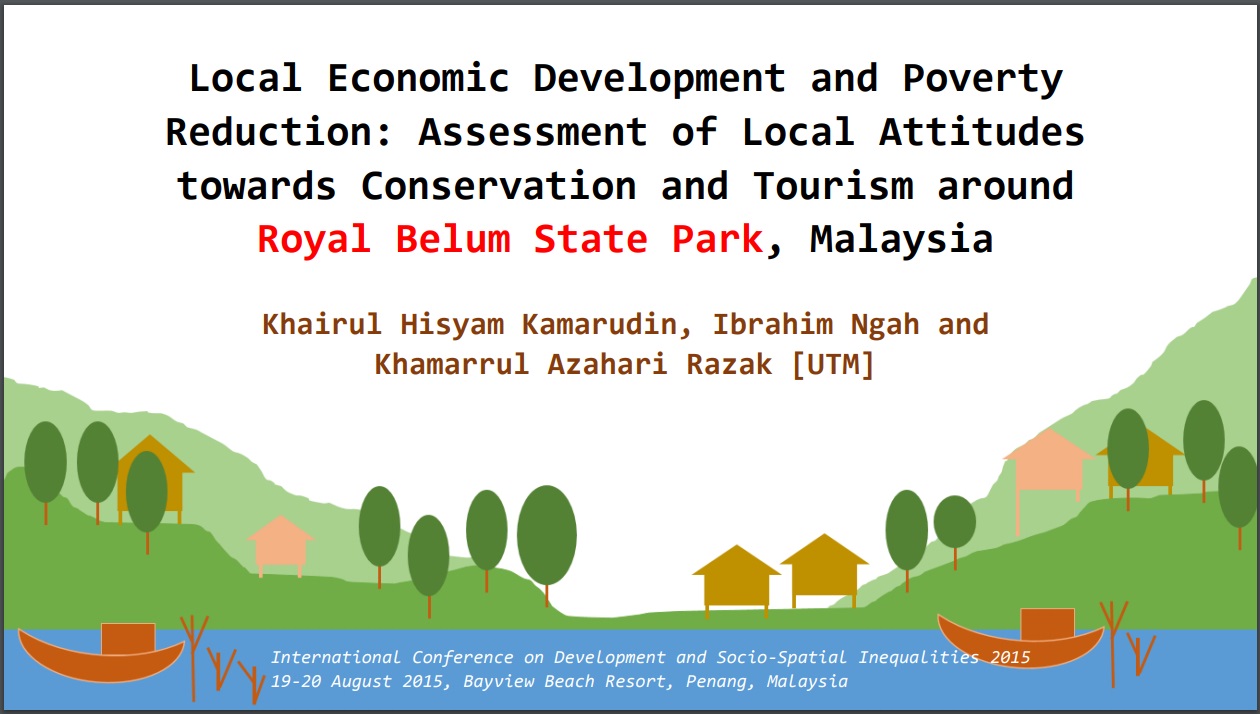 Geo sustainability also focused on local economic development of Orang Asli.
Follow this link Local Attitudes towards Conservation and Tourism around Royal Belum State Park for further info on topic Local Economic Development and Poverty Reduction: Assessment of Local Attitudes towards Conservation and Tourism around Royal Belum State Park, Malaysia
——————————————————————————-
Journal Publications: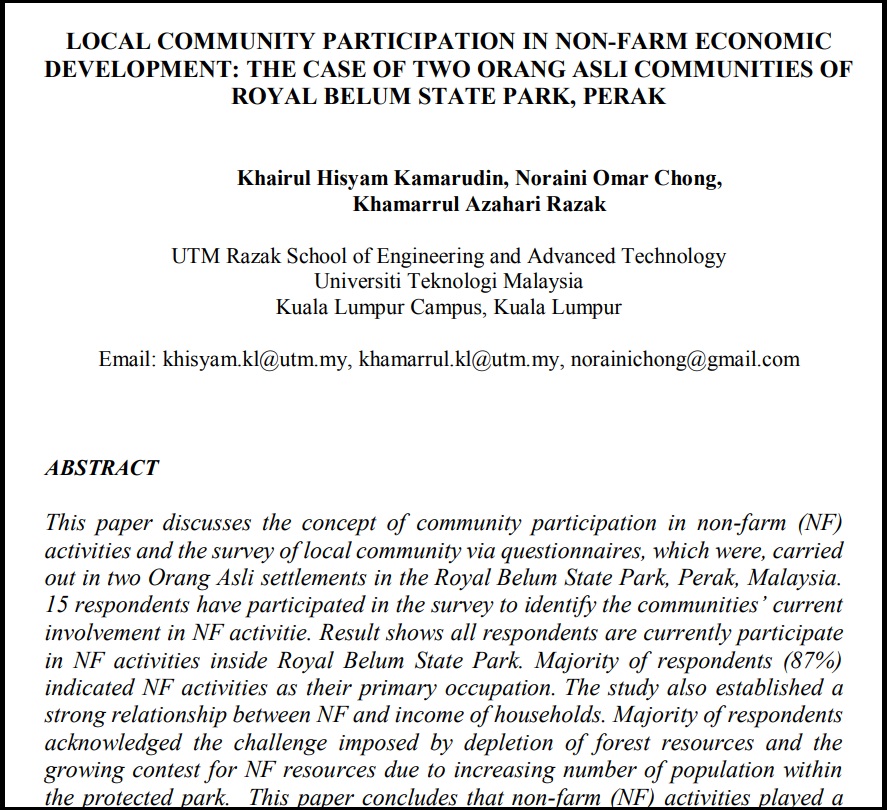 Khairul Hisyam Kamarudin, Noraini Omar Chong and Khamarrul Azahari Razak (2016). Local Community Participation in Non-Farm Economic Development: The case of two Orang Asli communities of Royal Belum State Park, Perak. Journal of Human Capital Development, Vol. 9, No. 2, July-Dec 2016. ISSN: 1985-7012. (Download –HERE)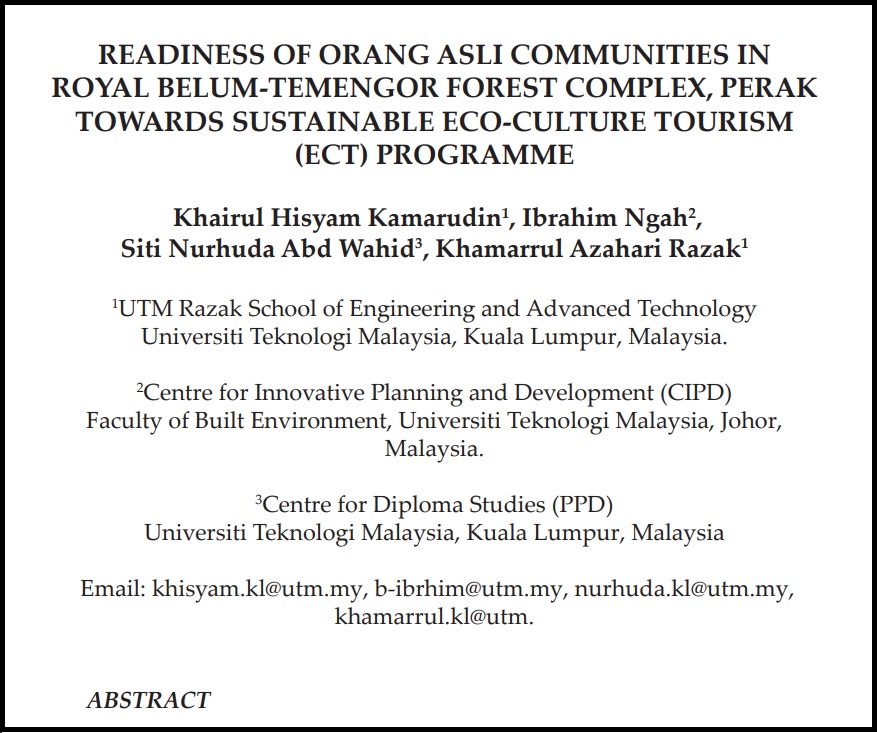 Khairul Hisyam Kamarudin, Ibrahim Ngah, Siti Nurhuda Abd Wahid and Khamarrul Azahari Razak (2015). Readiness of Orang Asli Communities in Royal Belum-Temengor Forest Complex, Perak towards Sustainable Eco-Culture Tourism (ECT) Programme, Journal of Human Capital Development, Vol. 8, No. 1 (Jan-June 2015). ISSN 1985-7012. (Download –HERE)