What is MSc CSE?
MSc (Computer Systems Engineering) is a cutting-edge program by UTM Advanced Informatics School that provides a comprehensive course that allows you to gain the latest knowledge and skills on the integration of computer, software and systems engineering.
Why Study MSc CSE?
Students will be exposed to embedded systems engineering for Internet of Things (IoT) applications with an emphasis on hands-on learning. The course focuses on developing students' technical skills as well as building wider professional skills such as project design and development, innovative mindset, research skills and publication techniques.
Where Are We Located?
All our programs will be conducted at UTM AIS that is located in the heart of Kuala Lumpur.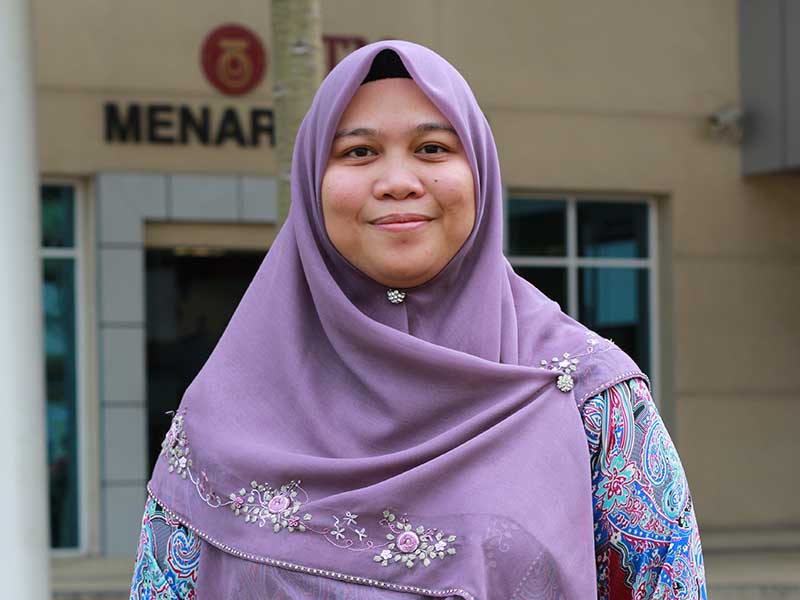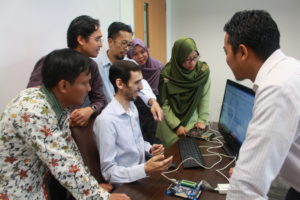 Aligned with Internet of Things (IoT) requirements, MSc (Computer Systems Engineering) is a comprehensive programme that enables you to acquire recent knowledge and skills on the integration of computer, software and systems engineering. MSc (CSE) is another cutting-edge programme by UTM Advanced Informatics School (AIS) that allows students to get hands-on experience with embedded systems engineering for IoT applications. The course focuses on developing students' technical skills to unlock the power of IoT as the next generation technology. It also targets to further build students' professional skills that encompasses innovative mindset, project design and development, team working, and research skills. New Academia Learning Innovation (NALI) teaching and learning method will be implemented in the course programme that includes problem based learning, active learning and more. Students will involve with dissertation research projects that relates with IoT applications. The outcome of the research can be realized as tangible research outputs such as publications and intellectual property rights
.
Concept of MSc. (CSE)
Program Overview
Computer Systems Engineering integrates few disciplines and specialty groups into a team effort forming a structured development process that proceeds from concept to production to operation. MSc. (Computer Systems Engineering) programme is the integration of systems engineering, software engineering and computer engineering knowledge. This programme will produce graduates who can work in a career related to the field of technology-driven and interdisciplinary or multi-technology in nature. They are able to design, develop and integrate between software and hardware that includes the embedded system equipped with security and software requirements.
Program Outcome
At the end of the programme students are able to:
Integrate and generate in-depth knowledge in the field of computer systems engineering into professional practices for resolving the current research issues in computer systems engineering.
Evaluate, analyze, develop and verify the performance of a solution to the problems that include products, systems, processes and complex technology in terms of usability, effectiveness and efficiency.
Evaluate situations and respond appropriately toward discussion and communication among peers and other.
Integrate the social skills, responsibilities, value, attitude and professionalisme in profession, organization and society
Using the latest research techniques and compile and adapt to contemporary knowledge to acquire, interpret and develop knowledge in the field of Computer Systems Engineering.
Display managerial and enterprising skills to prepare, publish and present technical material to diverse audience.
Mode of Study
The programme is offered in full-time and part-time mode. The courses will be taught in modular approach. The students are required to take 45 credits which comprises of 7 core courses (21 credits), 3 elective courses (9 credits), 1 university course (3 credits) and master project (12 credits). The students can select 3 elective courses from Computer Engineering or Software Engineering specialisation. The number of semesters for each mode is as follows:
| | | |
| --- | --- | --- |
| Mode | Min Semester | Max Semester |
| Full time | 3 | 6 |
| Part time | 4 | 8 |
Location
This program will be conducted at Advanced Informatics School (UTM AIS), Universiti Teknologi Malaysia, Kuala Lumpur.
Language
English language is the main medium for teaching & learning activities.
Career Opportunities
Graduates of the programme can work as Solutions Architect, Computer Systems Engineer, Systems Integrator, Systems Analysts, Software Engineer, Systems Managers, Systems Consultants, Academicians and Researchers. The graduates are also eligible to pursue their study PhD level at local or abroad institution.
Program Structure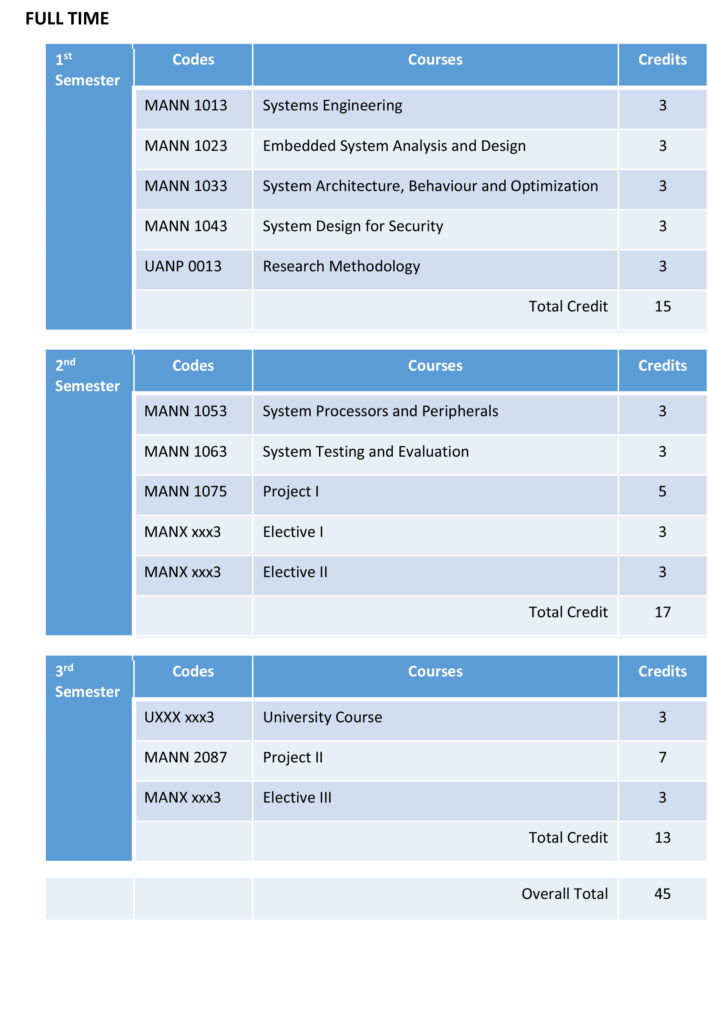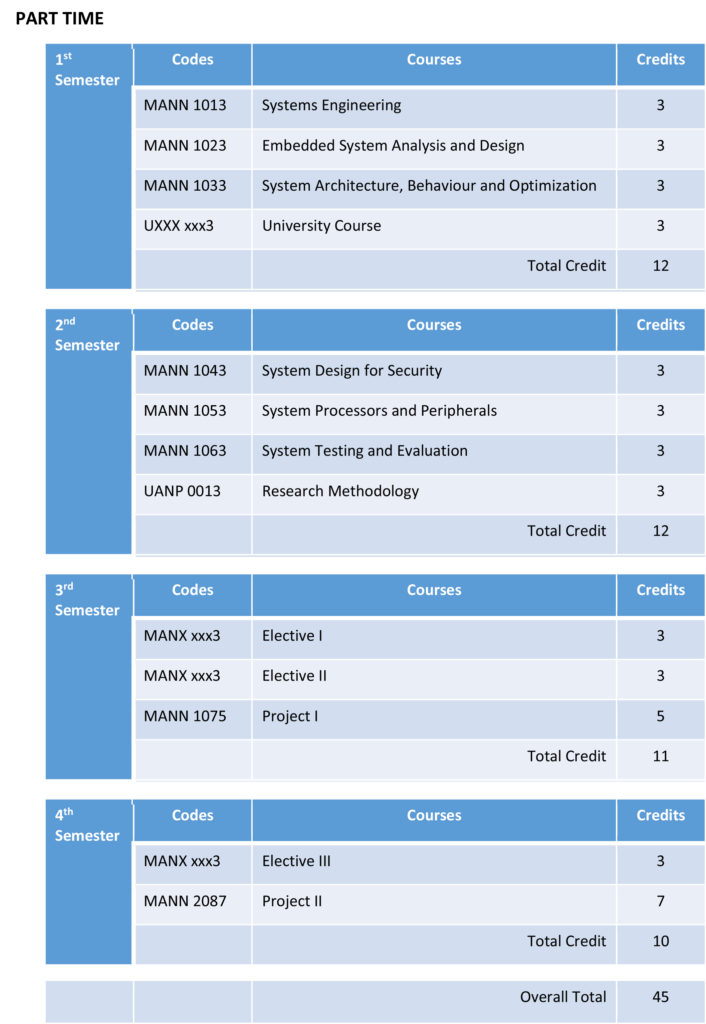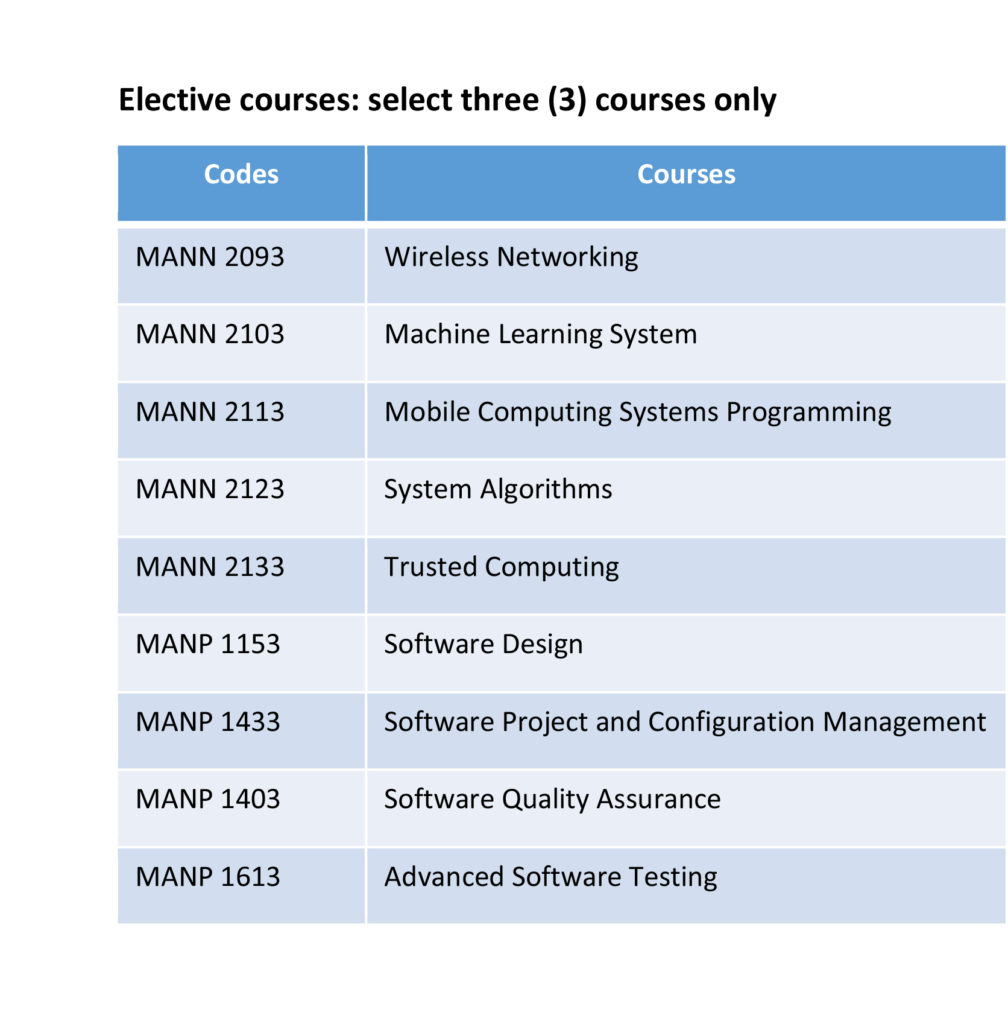 Synopsis of Subjects
A. CORE COURSES 
MANN 1013 Systems Engineering
This course provides students the knowledge on the principles and processes of systems engineering that includes a disciplined approach for identifying a customer or stakeholder need and translating that need into a complete set of requirements or specifications for a system that meets the need. The course includes the application to the design and development of various types of complex engineered systems. Students will learn how to define system requirements and create effective project teams. Students will gain experience using mathematical and graphical tools for system analysis and control, testing and evaluation. In addition, economic considerations and the system life cycle will be covered.
MANN 1023 Embedded System Analysis and Design
This project oriented course focuses on using modern methods, techniques, and tools for specification and design of embedded systems. Topics include analytical methods, development methods, and notations like UML, Petri nets, embedded real-time systems, networking, power management, and embedded real-time programming. Performance evaluation based on modeling and simulation techniques is also covered.
MANN 1033 System Architecture, Behaviour and Optimization
This is a course in the application of the systems engineering process to the architecture design and operation of complex systems. Topics include techniques for design, simulation, optimization, and control of complex systems. Case studies and system simulations in diverse areas provide context for the application of these techniques.
MANN 1043 System Design for Security
This course explores how cost-effective solutions to security needs can be achieved by following well-established architectural practices and detailed security principles. Central to these considerations is meeting the requirements with established solutions, and striking a balance between security and other system requirements.
MANN 1053 System Processors and Peripherals
This course covers microprocessors, processor architectures; programming model; instruction sets; and exception support. Memory and peripherals for embedded devices will be examined, including: memory and I/O interfacing; parallel I/O; USART, SSC, field buses; timers, watchdog, high-speed I/O modules; display controllers; DMAs; MMUs, peripheral control processor; memory systems and types; interfacing techniques; performance issues; and power considerations. The course will also examine aspects of integrated microprocessors, including: selection criteria; on-chip resources; power management; development support; application specific standard processors; and multi-core vs. unified core devices. A case study of a popular RISC such as the ARM processor and emerging technologies will be examined.
MANN 1063 System Testing and Evaluation
This course is designed to provide students with in depth knowledge on system testing and evaluation. The course covers the basic principles of system development life cycle and test activities that include the test plan, test design, monitoring, implementation and test closure. The students will also learn various categories of evaluation techniques and methods used in both black-box and white-box testing. At the end of this course, students should be able to recognize system validation and verification process and techniques.
MANN 1074 Project I
After being assigned problem individually by the supervisor or proposed by student, each student implement his/her own project based on making use of knowledge and skills obtained in previous courses. Student will be guided during the Research Methodology topic provided in this project.  Although Project 1 and Project 2 make a set, these are assessed and presented separately at the end of the semester. A complete report must be written and adhere to the UTM Thesis Writing Guideline.
MANN 2086 Project II
Each student must pursue his/her project by using various methods and ways available or they have in hand. At the end of this course, each student has to make a presentation in the presence of other students and examiners for the final assessment.  A complete report must be written and adhere to the UTM Thesis Writing Guideline.
B. ELECTIVE COURSES: SELECT THREE (3) COURSES ONLY
MANN 2093 Wireless Networking
The course provides the introduction to the design and operation of wireless networks through concepts, terminologies, performance analysis and industrial standards. It introduces models and sub-systems of typical wireless networks (ie Wireless Local Area Network and Wireless Telecommunication Networks). It covers typical commercial wireless and mobile networks (eg wireless sensors, WiMAX, UWB, 2G/2.5G, 3G cellular), mobile networking protocols (eg Mobile IP, Wireless TCP), and wireless multimedia applications.
MANN 2103 Machine Learning System
Machine learning is concerned with computer programs that automatically improve their performances based on past data and solutions. The course covers the theory and practice of machine learning from a variety of perspectives. By the end of the course, the students will now methods and algorithms for supervised learning and unsupervised learning, inductive learning, statistical learning, reinforcement learning, learning with artificial neural networks and genetic algorithms, learning set of rules. The learning applications that will be presented cover several domains, for example pattern recognition, statistics, optimization and control, decision theory, planning and prediction, data mining.
MANN 2113 Mobile Computing Systems Programming
A major focus is the programming of mobile devices using the standard toolkits "Java Micro Edition" or ".NET Compact Framework". Topics covered include: programming applications for Smart phones and PDAs; user interfaces for mobile devices; accessing location sensing technologies; interfaces for grid computing; geometric routing; data and information management, in particular for location-based services; privacy and security issues; and SnycML, WAP and XML technologies.
MANN 2123 System Algorithms
This course covers modern algorithms from the fastest algorithms and data structures to polynomial-time algorithms for seemingly intractable problems, from classical algorithms in graph theory to special algorithms for string matching, computational geometry, and number theory. Expected performance of an algorithm, and the conditions it needs to perform at its best
MANN 2133 Trusted Computing
This course focuses on fundamental technologies of trusted and high assurance computing and its applications in large-scale systems with varying degrees of trust. Among the topics are fundamental security principles of trusted computing (root of trust, trust measurement, storage, reporting, and attestation), hardware and software based trusted computing, architecture and implementation challenges, trusted computing for cloud, trusted mobile and smart phones devices, trusted emerging digital infrastructures such as smart grid, power grid, and Internet of Things, trusted social networks.
MANP 1433 Software Configuration and Management
This course presents the principles and strategies of software configuration management and software project management adhering to the DOD Standard 2167A and its quality requirements in the DOD-STD-2168.  Software configuration management emphasizes on the activities of controlling changes during the software development process, managing different versions of various work products, auditing and reporting on the changes made. Software project management covers the software project management aspects which include the project management plan, WBS, software quality management, estimation, monitoring and risk management
MANP 1403 Software Process and Quality
This course discusses a broad range of software process and quality in software development. It takes a structured view of the software engineering principles associated to software process, standards and quality that lead to software process improvement. The course features some basic use of validation and verification but will emphasize on the key elements of CMMI model to support SPI.
MANP 1613 Advanced Software Testing
This course will provide students with detailed and technical knowledge on software testing approach. The course covers the major topics of software testing that includes the test management, test analysis and application of testing tool.
MANP 1623 Advanced Software Process Improvement
This course provides an in depth knowledge of software process improvement focusing on CMMI. The main topics to cover including the CMMI continuous and staged representations, process areas, specific and generic goals, specific and generic practices, and SPI evaluation
UHAP 6013 Seminar on Global Development, Economic and Social Issues
Discussion on this subject includes issues related to globalization and development, economic and social crisis that has become a global concern. It aims in developing skills in understanding and analyzing global issues and recommending relevant solutions. Issues will be discussed in details.
UHAZ 6123 Malaysian Society and Culture
This course is designed for international postgraduates from countries of non-Malay origins. Students will be exposed to various aspects of the Malaysian culture such as belief system, religious festivals, customs and etiquettes of different ethnic groups in Malaysia. Emphasis will be given to the Malay culture as it makes the core for the Dasar Kebudayaan Kebangsaan. Students will also be briefly introduced to basics of Malay language as the national language of Malaysia.
ULAM 6323 Malay Language for Postgraduates
This course is designed for international Master and Doctor of Philosophy students from countries of Malay origins such as Indonesia, Brunei, Singapore and South Thailand. Students will be exposed to scientific paper writing. In this course, students are given an overview of scientific writing. They are also taught about the scientific paper writing method, particularly academic writing style. Furthermore, students are also thought about writing formats such as collections, bibliographies and editing to fit the format described academic writing UTM.
Fees and Entry Requirements
Fees and Entry Requirements
Entry Requirement Bachelor degree in (computer science, maths & science based) i.e BSc, B.Eng etc UTM Undergraduates with CGPA 3.00 or others (accredited by LAN) CGPA 3.00 Prior learning experience with these requirements:
B.Sc holder in IT related field

Full-filled pre-requisite subjects (refer to table curriculum structure)

Relevant working experience (if CGPA less than 3.0)

Transferred credit (based on UTM transferred credit regulation) 
International Student English Requirements Upon being accepted into the program, all international candidates are required to produce their English Qualification in the form of IELTS (min 6.0) or TOEFL (min 550).
All international students applying to UTM must have a valid two-year old TOEFL or IELTS certificate.
For exempted from the UTM English language requirement, click here.
Program Fees
| | | |
| --- | --- | --- |
| Mode of Study | Local (RM) | International (RM) |
| Full time | 13,000 | 25,000 |
| Part time | 15,000 | 30,000 |
All tuition fee must be paid at the beginning of each semester

Total The personal bond (RM1,500) do not include in the tuition fees for International students only.

Total tuition fee for both programs are subject to normal duration

Any extra semester will be charge according to university charges

Personal bond is refundable after full settlement of the tuition fees.

All payments should be made to "Bendahari UTM" via bank draft and addressed directly to Finance Office, Advanced Informatics School (UTM AIS), Universiti Teknologi Malaysia, Jalan Sultan Yahya Petra, 54100 Kuala Lumpur, MALAYSIA.
*Personal bond may vary to countries and refundable after full settlement of the tuition fee ** Reimbursable upon graduation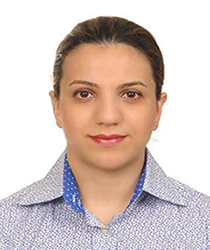 Testimonials
The MSc (Computer Systems Engineering) at UTM Advanced Informatics School (AIS) covers the requirement for the development of Internet of Things (IoT) system. It also prepares students towards delivering final year IoT-based project that has both research and entrepreneurial values. By enrolling in this master programme, I am able to broaden the knowledge from my computer science bachelor degree to embedded system engineering; thereby improves my understanding in both hardware and software roles in embedded system design. I am glad to be graduated from UTM AIS.
Samaneh Amirisoori
MSc Computer Systems Engineering Student (Graduated in 2015)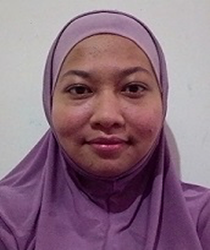 Testimonials
I chose MSc (Computer Systems Engineering) at Advanced Informatics School, UTM because I want to learn about Internet of Things (IoT) through embedded systems engineering. The key strength of the programme is that the courses are designed to align with IoT requirements that equip the students to develop IoT systems. The knowledge acquired is then applied in IoT dissertation research project. This master programme has expanded my know-how from previous work domain in ASIC/FPGA hardware design to embedded system design. For those who want to build solid foundation in IoT, MSc (CSE) is the best program for you.
Nur Qamarina Mohd Noor
MSc Computer Systems Engineering Student (On-going)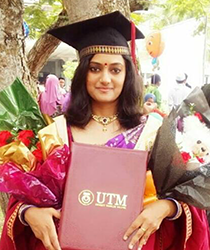 Testimonials
I enrolled in Masters in Science (Computer Systems Engineering) programme because I want to learn more about the current technology in IT. The programme not only offers a diverse range of subjects but it is also interesting. We got to learn the current technology which includes IoT which is becoming an increasingly growing topic in the TechWorld. Besides, there is abundance of reading materials provided in each subject and the teaching quality is excellent. To those considering doing this programme, I would say just go for it as it is a worthwhile degree. The knowledge you will obtain will be very useful in your future career.
Deepa A/P Rajandran (2016 MSc CSE Graduate)
Assistant Information Technology Officer, University Malaya Medical Center, Malaysia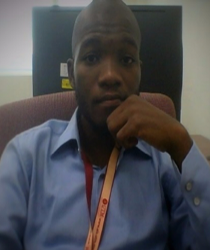 Testimonials
With its strategic location at the heart of Kuala Lumpur, UTM Advanced Informatics School (AIS) is able to incorporate commensurate academic and industrial experiences into their programmes. One remarkable experience was how we would take lessons as usual, then the faculty organises workshops and conferences relating to those lessons whereby experts are invited to share their knowledge. Choosing MSc (Computer Systems Engineering) was one of the finest decisions I have ever made. Being an MSc CSE student, I was able to garner required hardware and software knowledge for thriving in any academic or industrial environment. Although the process was tough, UTM AIS also embodies faculty that is always willing to provide support to their students.
Aliu Ameen
Current MSc CSE Student
More Info
Address: Advanced Informatics School,
Universiti Teknologi Malaysia,
Jalan Sultan Yahya Petra, 54100 Kuala Lumpur, Malaysia
Tel: +6 03-2180 5213/ 5217 / 5275
Fax: +6 03-2180 5370