Master of Professional Science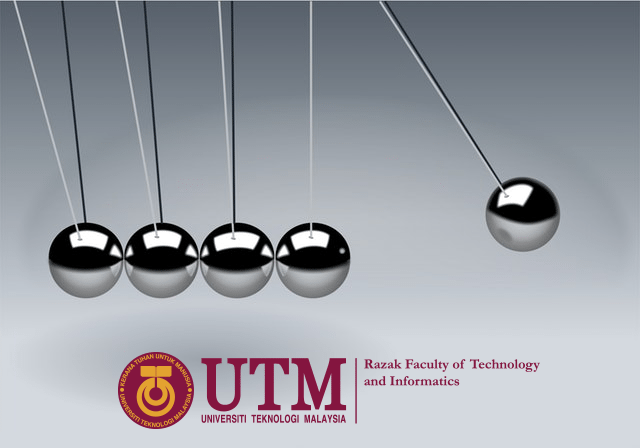 Introduction
Master of Professional Science is an innovative and multidisciplinary programme designed for those who want to expand their scientific knowledge whilst acquiring management skills to support their professional development. Universiti Teknologi Malaysia is the first university in the nation to offer this special programme that bridge between science and management which will enhance workforce preparation.
This programme combines science and management disciplines. Candidates are required to take a management component and choose one (1) of the following specialized science areas:
• Applied Mathematics
• Operations Research
• Nanophysics
• Applied Chemistry
PROGRAM OBJECTIVES & OUTCOMES
Objectives of the programme include producing;
Manage and develop a more competitive organization locally and globally using knowledge of science and management.
Lead and communicate with co-workers and workers from other organizations at various levels of the organization.
Carry out their work responsibly and with professional ethics showing concern for society and the environment with an appreciation of global perspectives.
Improve knowledge and develop skills through lifelong learning
Programme outcome include
Integrate advanced knowledge in Science and Management.
Acquire new and transferable skills in conducting research.
Demonstrate critical thinking in identifying and solving problems.
Demonstrate accountability and responsibility for professional practice and society.
Communicate effectively to scientists, industry and society.
Adapt knowledge of science and management for effective lifelong learning.
Demonstrate Managerial and Entrepreneurial Skills.
PROGRAM STRUCTURE
PROGRAM NAME
Master of Professional Science
AWARD NAME
Master of Professional Science
LANGUAGE OF INSTRUCTION
English
MODE OF STUDY
Conventional
MODE OF OPERATION
Self-govern
STUDY SCHEME
Package 01 (Weekdays Class) and Package 02 (Weekend Class
STUDY DURATION
Package 01 (Weekdays Class): 1 ½ years
Package 02 (Weekend Class) : 2 years
IMPLEMENTATION MODE
PACKAGE 1
PACKAGE 2
Classes During Weekday
Classes during Weekend
TYPE OF
SEMESTER
NO. OF SEMESTER
NO. OF WEEKS
PACKAGE 01
PACKAGE 02
PACKAGE 01
PACKAGE 02
MIN
MAX
MIN
MAX
42
86
NORMAL
3
6
4
8
SHORT
–
–
–
–
Core Courses (Compulsory)
Core Courses – Science
Specialisation 1: Applied Mathematics
MRSQ 1013: Statistical Methods for Professionals
MRSQ 1023: Mathematical Modeling in Science and Management
MRSQ 1053: Computational Methods for Professionals
MRSQ 2033: Numerical Differential Equations
Specialisation 2: Operation Research
MRSQ 1123: Linear and Non-Linear Programming
MRSQ 1133: Operations Research for Professionals
MRSQ 1153: Decision Analysis for Professionals
MRSQ 2143: Management of Information Systems
Specialisation 3: Nanophysics
MRSQ 1063: Nanostructures & Nanotechnology
MRSQ 1083: Characterization and Fabrication at the Nanoscale
MRSQ 1073: Methods of Experimental Physics
MRSQ 2103: Material Science
Specialisation 4: Applied Chemistry
MRSQ 1193: Advanced Materials Chemistry
MRSQ 1203: Nano-Chemistry
MRSQ 1213: Consumer Chemistry
MRSQ 2223: Green Chemistry
Core Courses – Management
MRSP 1013: Management for Professionals
MRSP 1033: Human Resource Management for Professionals
MRSP 2023: Entrepreneurship and New Business Creation
Elective Course (Select three (3) with at least 1 science course)
MRSQ 1043: Advanced Statistical Methods
MRSQ 1093: Advanced Nanostructures and Nanotechnology
MRSQ 2113: Modern Physics for Innovation
MRSQ 2163: Simulation for Professional Science
MSCM 1473: Multivariate Analysis
MSCM 1663: Supply Chain Modeling
MRSQ 1233: Computational Chemistry
MRSQ 2243: Instrumental Analysis
MRSP 1073: Creative Thinking and Problem Solving
MRSP 2053: Industrial Relations and Employment Law
MRSP 1103: Strategic Management for Professionals
MRSP 1033: Human Resource Management for Professionals
MRSP 1083: Human Resource Development
MRSP 1093: Management of Change
MRSP 1113: Sustainable Development and Environmental Management
MRSP 2063: Quality Management
MRSP 1043: Financial Management
Master Project
MRSQ 1174: Master Project 1
MRSQ 2186: Master Project 2
University General Courses
Compulsory
URSP 0013: Research Methodology
Choose 1
URSP 6023: Information and Communication Technology Ethics in Society
URSP 6013: Environmental Ethics
UHAP 6013: Seminar on Global Development, Economic and Social Issues
UHAW 6023: Philosophy of Science and Social Development
UHAF 6033: Dynamics of Leadership
UHAZ 6123: Malaysian Society and Culture
UHAZ 6323: Malay Language for Postgraduates
UDPE 1123: Organizational Behavior and Development
ADMISSION
Fees
Package 1
Package 2
Types of Fees
Local
International
Local
International
Processing Fee (Non-refundable)
RM 60
50 USD
RM 60
50 USD
Registration Fee
RM 350
RM 350
RM 350
RM 350
Programme Fee* Subject to change
RM 18,200
RM 28,200
RM 22,200
RM 33,200
Scholarship and Financial Aids
Student can obtain financial assistance from:
(1)        PTPTN: (http://www.ptptn.gov.my/web/guest/pinjaman)
(2)        MARA (web address: http://www.mara.gov.my/web/guest/biasiswa-/- pinjaman-pelajaran).
(3)       Student can also withdraw EPF savings. UTM will issue a support letter once the student has enrolled in the programme for the first semester.
Entry Requirement
A Bachelor's degree in Science/ Mathematics/ Engineering or Technology (STEM) with minimum CGPA of 2.5 (or other equivalent scales as listed in the table).  Those with lesser qualification but possess relevant working experience will be considered.
English Language Requirement (for international student):
All international students applying to UTM must have a valid two-year TOEFL or IELTS certificate with a TOEFL score of 550 (or 79 IBT) or an IELTS Band 6.
How to Apply
Please visit http://admission.utm.my/
AWARD REQUIREMENT
Students should:
Achieve a total of 46 credit hours with a minimum of  CGPA of 3.0
Achieve a pass in Masters Project and submit Project Report
Present the research project through oral exam and pass the exam