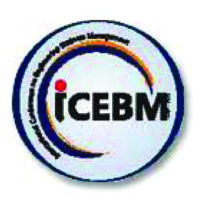 UTM Razak School of Engineering and Advanced Technology and Graduate School of Business Administration (GSBA), Meiji University, Tokyo, Japan are co-organizing the Sixth International Conference on Engineering Business Management (ICEBM) 2017, which will be held from 26 to 27 August 2017 in Kuala Lumpur, Malaysia. The conference aims to provide a forum for academics, researchers and practitioners to exchange ideas and explore recent developments in the field of Engineering, Business and Management. The conference is also expected to foster networking, collaboration and joint effort among the conference participants to advance the theory and practice as well as to identify major trends and latest development in EBM.
Interested individuals are invited to submit research papers and case studies on topics related to the conference theme. All submissions will be peer reviewed and evaluated based on originality, technical and/or research content/depth, correctness, relevance to conference, contributions, and readability. Submissions will be chosen based on content merit, interest, applicability, and how well they fit into the theme of the conference.
Venue: Royale Chulan Kuala Lumpur, Malaysia
Date: 26 – 27 August 2017.